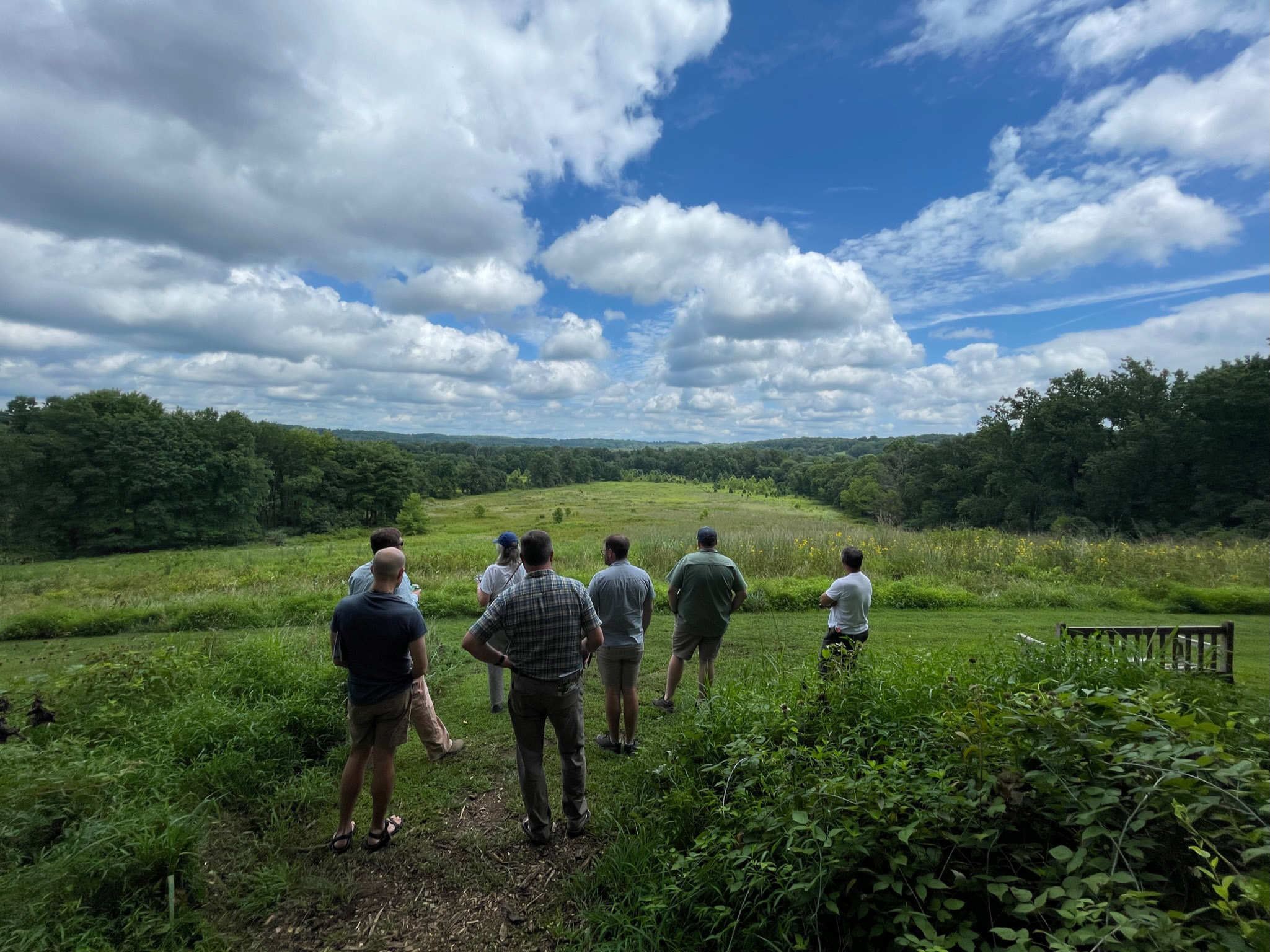 Members of the Board of Directors explore Irvine Nature Center, host of the 2022 ANCA Annual Summit.ANCA's Fiscal Year begins July 1, and with the new fiscal year come updates to the Board of Directors. We welcome four new members of the Board, and thank two departing members for their contributions to our organization. In addition to these updates, we have changes in Officership, including Board President.
The four professionals joining the Board are:
Allison Mackley, Vice President for Education at Berks Nature in Reading, Penn.
Andy Williams, Director of Satellite Properties at the Museum of Science and History in Memphis, Tenn.
Jason Sanders, Executive Director of Dodge Nature Center in West St. Paul, Minn.
John Harrod, Engagement Director at the Partnership for the Delaware Estuary in Wilmington, Del.
John DeFillipo, Executive Director of the Texas Conservation Alliance in Dallas, Texas, departs the ANCA Board after serving nine years, including two years as President. Brooks Paternotte, Executive Director of Irvine Nature Center in Owings Mills, Md., departs the Board after serving six years, including four years as Vice President (VP) of Development. We are immensely grateful to both John and Brooks for their many contributions to ANCA as an organization.
Kitty Pochman, Executive Director of the Linda Loring Nature Foundation in Nantucket, Mass., has completed her two-year term as Board President. Kristin Smith, Recreation Manager for the Tualatin Hills Park & Recreation District in Beaverton, Ore., now steps into the role of President. We thank Kitty for her leadership these past two years, and look forward to Kristin's time in this role.
Dennis Pilaske, Executive Director of Chippewa Nature Center in Midland, Mich. has been elected the new VP of Strategic Direction and Chad Truxall, Executive Director of Marine Discovery Center in New Smyrna Beach, Fla. has been elected the new VP of Development.
We will recognize and celebrate John, Brooks, and Kitty at the ANCA Annual Summit, August 21-25 at The Ecology School in Saco, Maine.
The Board supports ANCA's work and provides mission-based leadership and strategic governance. We welcome ANCA members to express interest in joining the Board of Directors and/or a Committee of the Board using this interest form.