ANCA's Quarterly Journal: Directions
Published quarterly, Directions contains articles, announcements, and commentaries relevant to the nature and environmental learning center profession. Written by directors and administrators in the field, each issue contains practical insights and advice that is relevant and interesting. See the most recent issue here (6mb pdf).
Submitting an Article
We firmly believe that to succeed at highlighting innovative and impactful trends and best practices in the nature center field, we need voices from leaders like you! Please consider writing an article for Directions! Contact Marketing & Communications Coordinator Asa Duffee at to discuss possible articles.
Topics
In 2020, we strive to answer these primary questions:
How are nature centers responding to the COVID-19 crisis?
What does community engagement look like during the pandemic?
How is environmental education changing in response to the pandemic?
How should nature centers maintain relevance?
How do nature centers maintain equitable practices, now and in the "new normal"?
What does advocacy look like for nature centers at the local, national, and global levels?
If you have experiences you have not shared that address these questions, we would still love to receive your article on them. If none of these topics spark any particular thoughts, we would love to receive any article that you find valuable as a nature center leader and think your peers could benefit from as well!
Submittal Deadlines
Winter Directions: January 10th
Spring Directions: April 10th
Summer Directions: July 10th
Fall Directions: October 10th
Text Submittal Requirements
Articles should be 500 - 1500 words, depending on content. It is best to contact

in advance for guidance on word count.
Text must be submitted as an email attachment, in Word (.DOC or .DOCX) or Rich Text Format (.RTF).
Technical language can be used as needed, but, remember your audience may not have your level of expertise in the subject.
Fun, light-hearted articles are always welcome as well.
Image Submittal Requirements
Please include a visual component to your article: photos, artwork, etc, are welcome.
Images must be submitted as separate email attachments – do not embed images in text documents.
Images should be sent in as high quality and large size as possible (300dpi preferred).
Include short captions and photo credit for each image.
Editing
The editor reserves the right to reject material.
Images will be adjusted, sized and cropped to fit newsletter layout and support quality reproduction.
Text will be placed and formatted to conform to the newsletter design.
We will edit to achieve the following:
Correct spelling or grammar
Improved clarity
Communicate the same meaning with fewer words
Conform to newsletter layout and style patterns
Produce consistency & reinforce patterns
Fit content within layout and space limitations
Books
Director's Guide to Best Practices: Examples from the Nature Center and Environmental Learning Profession
by Norma Jeanne Byrd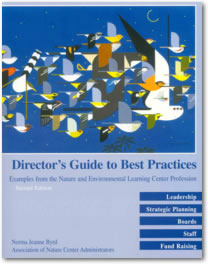 ANCA developed this book for busy directors and staff people with many roles and responsibilities, and it includes chapters on five essential areas: leadership, strategic planning, boards, staff, and fund raising. It is a handbook for those new to the profession, and will also challenge and inspire the most experienced directors and their staffs. ANCA members have also found it valuable to give to board members and volunteers.Directors from 23 states and 40 different facilities reviewed and commented on the chapter drafts and evaluated the book's effectiveness. Development of the book was made possible by the Institute of Museum and Library Services and Victor & Colleen Elderton.
$25 plus shipping
The Nature Center Book: How to Create and Nurture a Nature Center in Your Community
by Brent Evens and Carolyn Chipman Evans
Published by the National Association for Intrepretation's InterpPress, The Nature Center Book provides up-to-date information and expanded discussion of topics key to nature center development. It outlines lessons learned and important new developments in the field. This edition includes updated information regarding organizations and resources, as well as expanded coverage of financial and organizational issues and government-based nature centers. The book, printed in full color, features more than 200 photographs.
$29 plus shipping
Monographs
The Search for Extraordinary Leadership: Securing your next Executive Director
by Corky McReynolds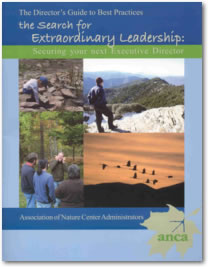 Developed to outline a best practices process to engage and complete a successful search and screen for a center's next extraordinary leader, this 42 page monograph includes what to look for in a new leader; how to prepare your center for successful change; protocols for searching, screening, and transitioning; and much more.
$7 plus shipping
Branding & Marketing Your Nature Center-
by Greta Bolger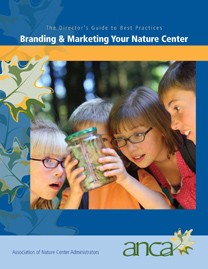 The purpose of this 70 page monograph is to provide nature organizations with a set of best practices that can be used to increase visibility and impact within their communities and beyond. The Best Practices outlined here are intended to guide marketing professionals at all levels, as well as specialists from other disciplines, in the development of a unified marketing strategy and a cost-effective, measurable tactical plan.
$7 plus shipping
Interpretive Design of Nature Centers: Buildings
by Donald Watson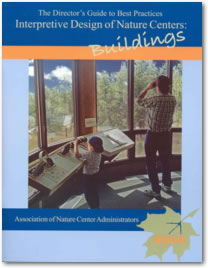 This 40-page monograph is for nature center administrators, board members, and staff involved with planning new sites and buildings and/or remodeling existing sites and buildings for interpretation, exhibits, and educational programs.
$7 plus shipping
Programming - Citizen Science
by Michelle Prisby and Paul Super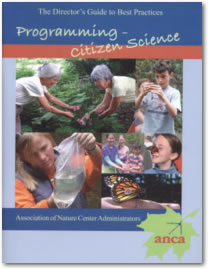 Citizen science is a research and educational tool that involves everyday people in real and meaningful forms of science, including biological inventory, long-term monitoring, and research. This 52-page monograph was developed to outline best practices in developing a citizen science program.
$7 plus shipping
Interpretive Design of Nature Centers: Exhibits
by Donald Watson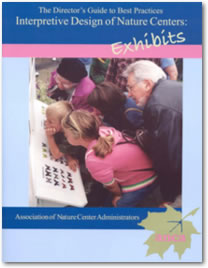 This 32-page monograph provides guidelines and recommendations for undertaking an exhibit design project in new or existing sites and spaces. Topics include interpretive planning, visitor studies, interpretive artifacts and anecdotes, outdoor exhibits and interpretive trails, and evaluation. Suggested formats are provided for selecting and managing exhibit consultants and coordinating exhibits with buildings and sites.
$7 plus shipping
Articles
Build Resiliency for the Challenge of Change
by Corky McReynolds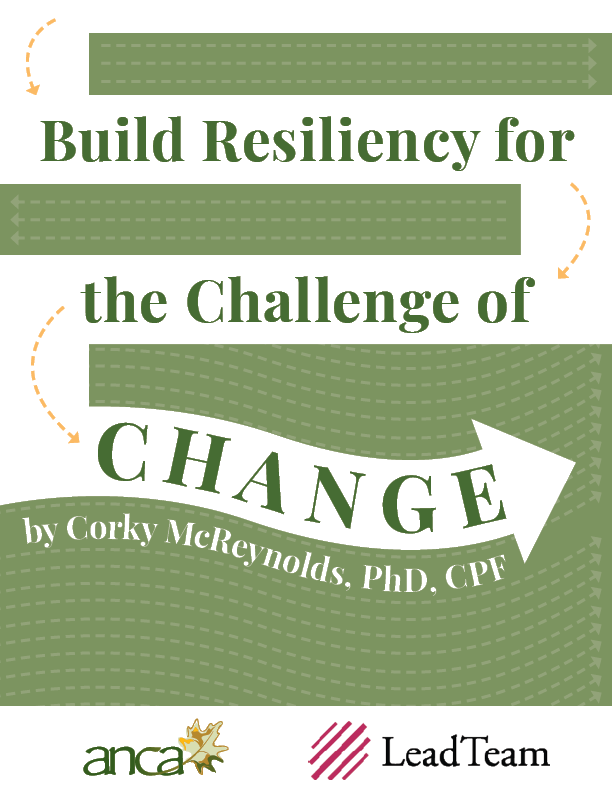 Change can be planned by or happen to an organization. When organizational change occurs, it can have a dramatic effecton its people, productivity, and processes. This change can be drastic for some and relatively easy going for others.This paper identifies Setting strategic direction, Creating a healthy culture, Practicing fiscal responsibility, and Investing in people as four core systems, that when functional and following best practices, will determine the capacity of an organization'sability to endure, embrace, and empower change.