Programs are the core of the ANCA Summit. In the variety of Summit programs, you can connect with peers and experts in a supportive learning environment, while also building a network of professional relationships that will strengthen your work throughout the year. As this is the first in-person ANCA Summit since 2019, the Thrive Outside Summit will maximize our time together with an array of hands-on, educational experiences.
With this menu of programs, you can choose the experience that will allow you to thrive. All participants will have opportunities to visit nearby nature education sites as well as opportunities to relax and recharge at Irvine Nature Center.
It was what I expected and so much more. I found each session I attended to be relevant to my role in my organization as well as full of practical information. I never felt once that what I was learning couldn't be applied to help my center grow and become a better resource for my community.

— 2019 Summit Participant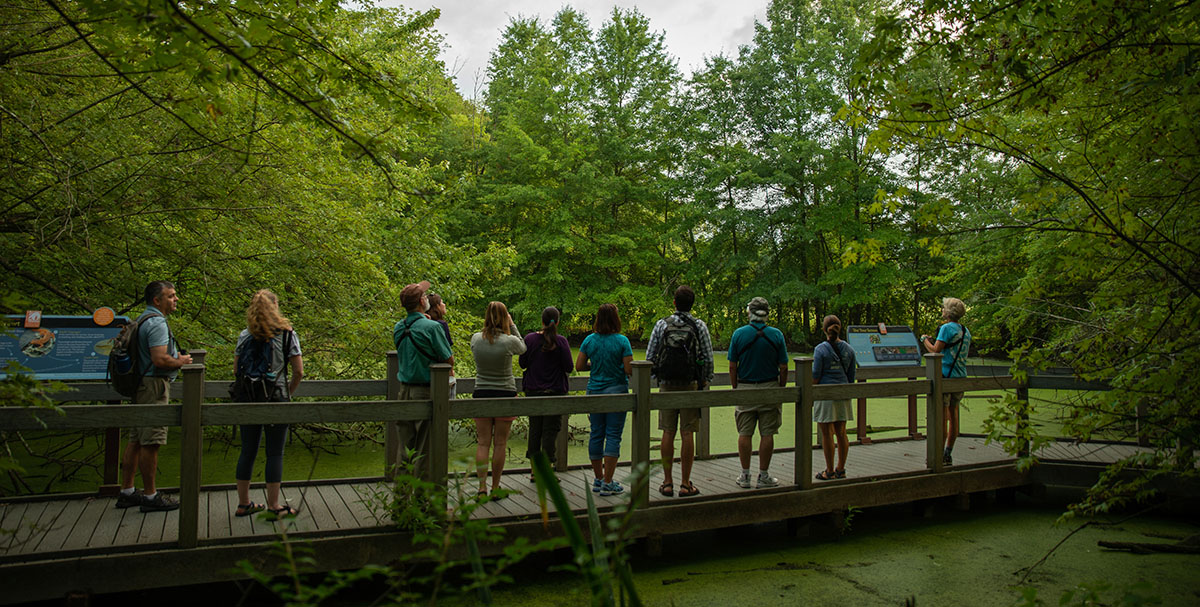 Concurrent Sessions
Facilitated Discussions
Facilitated Discussions are collaborative sessions where all participants contribute to the discussion; the result is a shared dialogue that brings out an abundance of perspectives, possibilities, and renewed energy. Facilitators guide the dialogue but do not give a formal presentation. These discussions are an excellent opportunity to share with your peers, learn new ideas, discuss trends in the profession, and work together to find solutions.
Facilitated Discussions are 90 minutes each. Topics include:
We will release more topics and full descriptions later this month.
Workshops
Workshops are presentation-based sessions where you can learn in-depth on a single topic, expand your skill set, and engage directly with experts.
Workshops can be 90 minutes or (up to) three hours. Topics include:
We will release more topics and full descriptions later this month.
Open Space
Open Space sessions provide an opportunity for you to create your own meeting, continue a session that needs more time, or find a group to address an issue that was not presented elsewhere during the Summit. To develop these sessions, participants will gather during the Summit to collectively design the session topics.
Open Space sessions will take place on Tuesday, 9am-12pm, and on Thursday, 1:30-5pm.
In the Field
Field Workshops
Field Workshops are your opportunity to visit nature education sites around the Baltimore area and learn firsthand from their operations. Representatives from the organization will host each workshop and demonstrate how they put their missions into action. Here's where you can engage in-depth on the workshop topic while going beyond the theory, and into practice.
Field Workshops take place on Tuesday (Aug 2) and Wednesday (Aug 3). Transportation is provided for each Field Workshop.
Tuesday, Aug 2
All Tuesday Field Workshops take place 9am-12pm.
Wednesday, Aug 3
Summit participants have two choices for a Field Workshop on Wednesday. Each workshop begins at 1:30pm, are followed by networking and dinner at their respective locations.
Field Trips
Field Trips add to your professional development experience while taking advantage of unique opportunities to visit additional sites, spend time with local experts, and interact with peers.
Field Trips take place on Friday, Aug 5. All Field Trips will depart from and return to Irvine Nature Center.