ANCA supports nature and environmental learning centers throughout our country that represent the quality of life, access to nature, and opportunity to learn that we want to see in our communities. We need your help to ensure we can continue providing support to and a voice for our members. We recognize that the COVID-19 pandemic continues to impact every individual's finances, so we especially appreciate your support at this time.
You can show your support for ANCA in many ways:
Call the office to process your donation over the phone: 435.787.8209.
Checks can be mailed to P.O. Box 464 Logan, UT 84323.
Become a Sustaining Donor through Recurring Donations. Choose the Donate Online link to schedule recurring donations through a PayPal account or choose the Make a Pledge link to receive reminders to submit your recurring donations via a credit card, checks, or securities
Donate your car through CARS.
Limited Opportunity: Nature Nerd Pins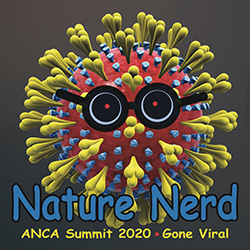 Support ANCA to receive your 2020 Nature Nerd pin! With a $30 donation here, you'll receive a pin to proudly display your contribution to ANCA and your inner nerdiness. These pins have been a tradition since 2015 and are typically worn at our Summits; each year's pin is unique and a reminder of the incredible community that comes together for networking, learning, and fun. Nature Nerd donations support the ANCA Operational Reserve.
This year's "Nerd Herd" receives the ANCA Summit 2020: Gone Viral pin — or you can choose a previous year's pin. This year's campaign pin is not a celebration of Covid-19, but a recognition of the virus that has impacted all of us and greatly threatened our missions. It is also a recognition of the creativity and strength of ANCA members in the face of adversity.
Get your own Nature Nerd pin today!
Contribute to a particular fund
There are several funds that you can choose from:
We endorse the Donor's Bill of Rights, which declares our transparency and accountability to donors. ANCA is a 501(c)(3) organization and contributions are tax-deductible to the full extent of the law. Please note that the Coronavirus Aid, Relief, and Economic Security (CARES) Act was signed into law on March 27, 2020, and includes the following:
Charitable Giving Incentive: Creates a new above-the-line deduction (universal or non-itemizer deduction that applies to all taxpayers) for total charitable contributions of up to $300. The incentive applies to cash contributions made in 2020 and can be claimed on tax forms next year.

Section 2204: The law also lifts the existing cap on annual contributions for those who itemize, raising it from 60 percent of adjusted gross income to 100 percent. For corporations, the law raises the annual limit from 10 percent to 25 percent.
Your donations make a HUGE difference! Thank you!