by Corky McReynolds, PhD, CPF
Director, Masters of Nonprofit Leadership
Pacific University, Forest Grove, Oregon

Note from ANCA: Pacific University is creating a Master of Nonprofit Leadership program that would be specifically relevant to many ANCA members. Here, longtime ANCA member Corky McReynolds introduces the program, for which he serves as director.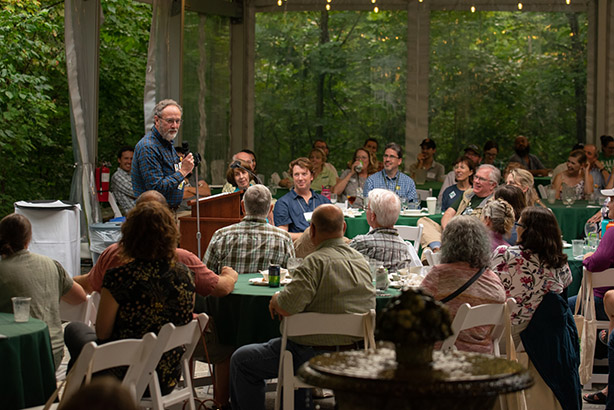 Corky McReynolds speaks during the 2019 ANCA Summit at Cincinnati Nature Center.I have experienced it. I hear it at every ANCA meeting and many other interactions among nonprofit leaders. It is passion. Passion for the profession, for the cause, for the environment, for our centers. Leaders recognize without passion we have nothing, but passion is not enough. We need skills and deep knowledge to effectively lead organizations. Preparation of life-long skill sets, tools of the trade, and unique techniques are essential for the roles leaders play in the success of our centers.
Over my career I have yet to meet anyone serving as an Executive Director in our profession who claimed they were adequately prepared for their position. When I became a director, right out of college, I had no idea what the role of director meant, what I was supposed to do next, or how to build an organization. I had plenty of passion but certainly lacked preparation. All of us have had to learn the role of being a leader through the school of hard knocks. In many situations today that may still hold true. However, what if we had access to a graduate program designed to develop, enhance, and apply best practices using research-based models with plenty of real-life examples?
Pacific University is developing a new Master of Nonprofit Leadership (MNL) that can directly benefit our profession and our organizations. This fully online masters of nonprofit leadership will begin in January 2023 can be earned in 13 months in a full-time cohort, or in 2-3-years as a part-time participant. This accredited graduate program is designed for the working professional with courses primarily scheduled late afternoons, evenings, and Saturdays using a hybrid of synchronous and asynchronous sessions. The MNL includes skill-building courses, relevant experiences, mentoring, and support for each participant's team at their organization. Faculty are successful practitioners and consultants with content expertise and higher learning experience.
The MNL Theory of Change, the roadmap for this extraordinary experience, is simple and profound. This theory includes:
Belief – MNL believes that to make significant and positive change in our communities and society, we need extraordinary nonprofit leaders to guide the way.
Strategy – The MNL is a mindful and interrelated set of experiences designed to build individual and team capacity through relevant coursework, peer connections, projects in action, mentorships, concentrations, and core teams.
Results – The MNL results in nonprofit leaders who work collaboratively to achieve inclusive, sustainable, and strategic organizations that positively impact their communities.
In 2015 ANCA commissioned a research project to identify the trends for the nature center profession, the Blue-Ribbon Report (Revelle 2015). Follow up research and the article, Staying Relevant/Achieving Impact (McReynolds 2016) connected to trends from other research. The MNL is grounded in some of the key outcomes of those reports and core academic experiences are designed to integrate with the recommendations posed. For example, both reports stated our future nature centers will need to become more actively involved in the communities in which we are located. Two courses Diversity, Equity, and Community Engagement and Building Collaborations and Partnerships respond to these report recommendations. As future research and lessons learned from the recent pandemic and other external influences occur, the MNL will adapt and lead efforts to integrate those factors into the curriculum.
There are four themes of courses for the MNL that connect and integrate mindfully throughout the program:
Leadership Development: Discover an understanding of ourselves and others to become better at leadership and followership, as individuals, teams, organizations, and communities.

Courses include Personal Leadership Development and Leading Nonprofit Organizations.

Foundations of Nonprofits in the Community and Society: Explore the changing role of the Nonprofit in our communities and its responsibilities to DEIB, JEDI, service, action, and leadership. Establish the why of nonprofits as the third sector, the profession's evolution, and the future for mission-based organizations.

Courses include Diversity, Equity, and Community Engagement, Building Collaborations and Partnerships, Program Innovation and Design and others.

Financial Sustainability: Learn and practice the integration of fiscal management, fund-raising, and grant writing with all other organizational systems resulting in a financially healthy organization.

Courses include Financial Management and Budgeting, and Resource Development Strategies.

Leadership in Action: Develop & enhance skills in best practices for planning, supervising, organizing, and succeeding as a leader with day-to-day responsibilities.

Courses include Developing a Strategy-Based Culture, Managing Meetings and Projects, Developing the Capacity of People, Impact and Iteration, and others.
The MNL is guided by a volunteer Advisory Council that includes nonprofit association executives Jen Levy, ANCA, and Jim White, Nonprofit Association of Oregon; Pacific University Professors Dr Jim Moore and Dr Rebecca Schoon; nonprofit consultants Dr Steve Patty, Dialogues in Action and Katie McCleary, author of Bridge the Gap; nonprofit entrepreneur Parker Bushman, EcoInclusive; and nonprofit ED Mario Caballero-Rubio, Centro Cultural.
The MNL and ANCA connection is clear and purposeful. ANCA is a leader among professional associations providing extraordinary non-formal professional development experiences for the nature center profession. Collaborating with the MNL advances the impact and excellence for sustained individual, team, and organizational capacity. The MNL has established two concentrations: Environmental Nonprofit Leadership and Rural Nonprofit Leadership. Within each concentration there are specific colloquia, special topics, webinars and experiences.
Pacific University's MNL program information and highlights can be discovered at Masters of Nonprofit Leadership. ANCA members are welcome to contact me directly for more information at .
CORKY MCREYNOLDS' 47- year career includes serving as first director of two environmental learning centers, university professor, consultant, and now as first director of a new graduate degree in nonprofit leadership with an environmental center concentration. He served on ANCA's board and past president and received the ANCA Leadership award in 2004.
References
McReynolds, C. (2016). Staying Relevant, Achieving Impact. Association of Nature Center Administrators. (Special publication)
Revelle, Andrew (2015). The Future of Nature Centers: A View from the Profession. University of Wisconsin-Stevens Point.