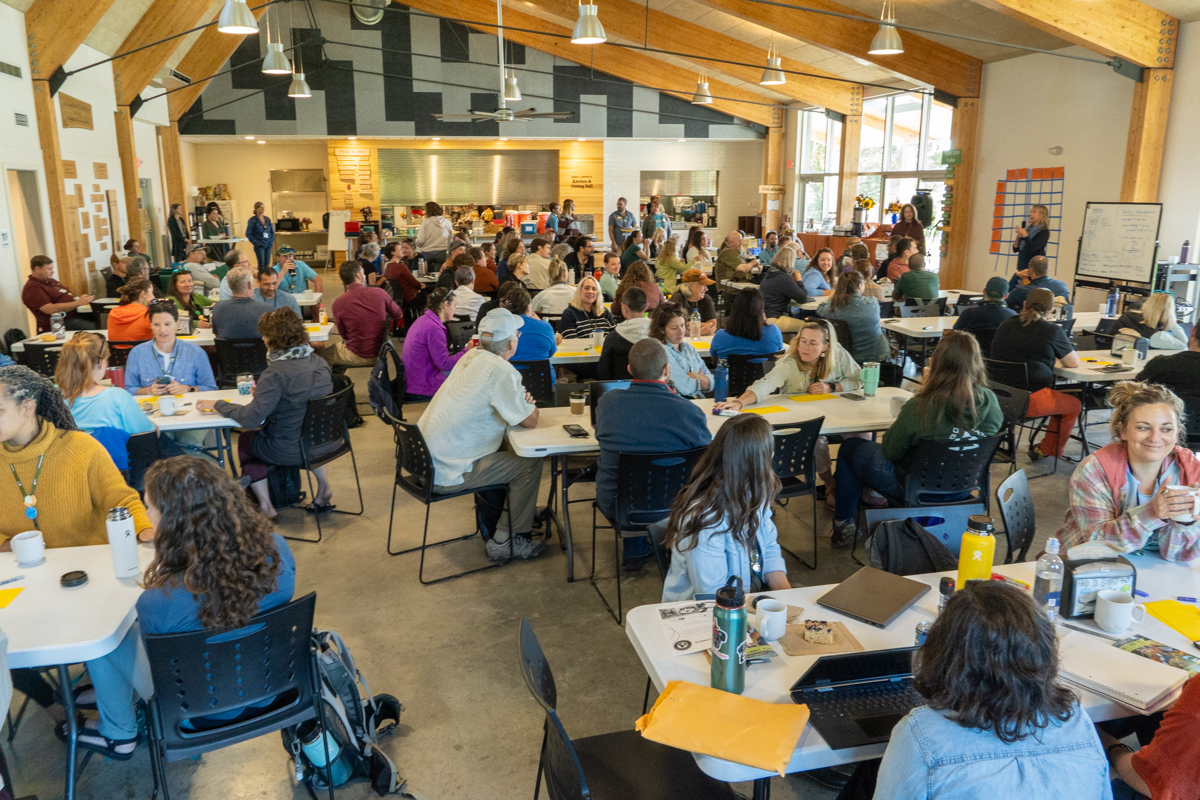 Summit participants at the Open Space Planning Session, where any Summit participant may create a discussion on a topic of their choice.
We are immensely grateful to both The Ecology School in Saco, Maine, and the ANCA community for a successful ANCA Annual Summit in late August. Over 150 ANCA members gathered at the Summit — hosted by The Ecology School — for a week of professional development, networking, and exploration.
Every Summit has a unique feel, as the event takes place at a different host site each year. The 2023 Summit was defined by The Ecology School's campus at River Bend Farm, a historic 105-acre farm just twenty minutes from the Maine coast. The rustic campus allowed Summit participants to experience the natural beauty of Maine while connecting with peers in a scenic setting. We especially appreciate The Ecology School's welcoming staff, who worked closely with ANCA to provide an exceptional experience for Summit participants.
We're elated to have received overwhelmingly positive feedback about the event, which includes participants saying:
"Best professional development experience of my career so far."
"This was my first year and I didn't realize how much I needed to be with a group of people who could empathize with my struggles and offer such good insight. This conference felt inspiring and recharging and I can't wait to go again next year."
"The sessions were incredible — learning from so many leaders in the field was invaluable to me."
"Honestly, best conference I've ever been to."
These comments give us yet more energy in planning the 2024 ANCA Annual Summit, Sept 9-13 at the Memphis Museum of Science and History in Memphis, Tenn. — please save the date! In the meantime, we hope to see you at one of our virtual or in-person ANCA CONNECTS programs throughout the year.
What ANCA's Team Says
"I was struck by the energy and professionalism of the group to move our profession forward in a positive way."
— Daniel Auer, Membership & Programs Coordinator
"I am always inspired by the energy of ANCA members coming together for the Summit. My favorite part is undoubtedly the Leadership Award Ceremony, when we celebrate the accomplishments of two exceptional leaders: the recipients of the ANCA Leadership Award and the ANCA Outstanding New Leader Award. This year, Pete Smerud and Veronica Frehm shared their stories and experiences of leadership, which upheld the importance of our field and gave us all energy to continue our work."
— Asa Duffee, Director of Marketing & Communications
"I was especially impressed by the success of Open Space, which provides an opportunity for attendees to create their own meeting, continue a session that needs more time, or find a group to address an issue that was not presented elsewhere during the Summit. That success was a testament to the passion and purpose of attendees who recognized the collective wisdom and diversity of their peers. Topics discussed were relevant to challenges and successes our leaders are facing."
— Jen Levy, Executive Director
About the Summit
The ANCA Annual Summit is the premier professional development opportunity for leaders of nature centers, outdoor schools, and related organizations. With a focus on leadership and management practices for our unique profession, the Summit provides participants with a wealth of knowledge, strategies, and resources to help them excel in their work.