by Asa Duffee, ANCA Director of Marketing & Communications

TRADITIONAL NATURE EDUCATION is a standard experience at nature and environmental learning centers, in which program participants learn skills such as wild plant identification, or concepts such as insect life cycles. Such programs are historically the "bread and butter" of nature centers, and have undoubtedly impacted millions of participants' lives in some way.
However, that nature education does not necessarily provide the solutions that those organizations seek. We face environmental and social challenges that are complex and widespread, and therefore we need holistic solutions on both individual and community levels. For nature centers to advance as a field, they must seek out effective new ways to engage their communities and foster connection with the environment. In other words, they need to be innovative.
Such innovative nature and environmental learning centers can be agents for systemic change, taking on bold new initiatives that address widespread environmental and social issues, such as climate change, habitat loss, and inequities in education. These organizations facilitate experiences for their constituents to become more connected with nature and each other, while also advancing their larger communities to become more sustainable and equitable.
Of course there's no one objective answer to how a nature center can be innovative on a practical level, as it will depend on the organization's mission and resources. Some innovative trends that the nature center field has seen, however, include sustainable construction, regenerative agriculture, and environmental education training for school teachers. Here we explore these examples and what such innovation has meant for some organizations.
Wolf Ridge achieves first-in-the-world certification
As ANCA has shared before, the Living Building Challenge (LBC) is a premiere certification for sustainable buildings; as of this writing only thirty buildings have received a full LBC certification, while forty-three have received partial certification. Though achieving LBC certification is indeed an example of innovation for any organization, Wolf Ridge Environmental Learning Center in Finland, Minn, earned additional recognition for its Margaret A. Cargill (MAC) Lodge this past October — it became the first renovation project to receive full LBC status, as all other LBC certifications have gone to newly constructed buildings. The building is also in the coldest climate to receive certification.
Wolf Ridge Executive Director Pete Smerud notes that when the organization decided to take on the challenge of LBC certification, they were looking to set goals that were inspirational and transformative for their community — not just to remodel a building.
"We needed to push people to think not about making buildings better," Smerud says, "but about making our relationship with the planet better."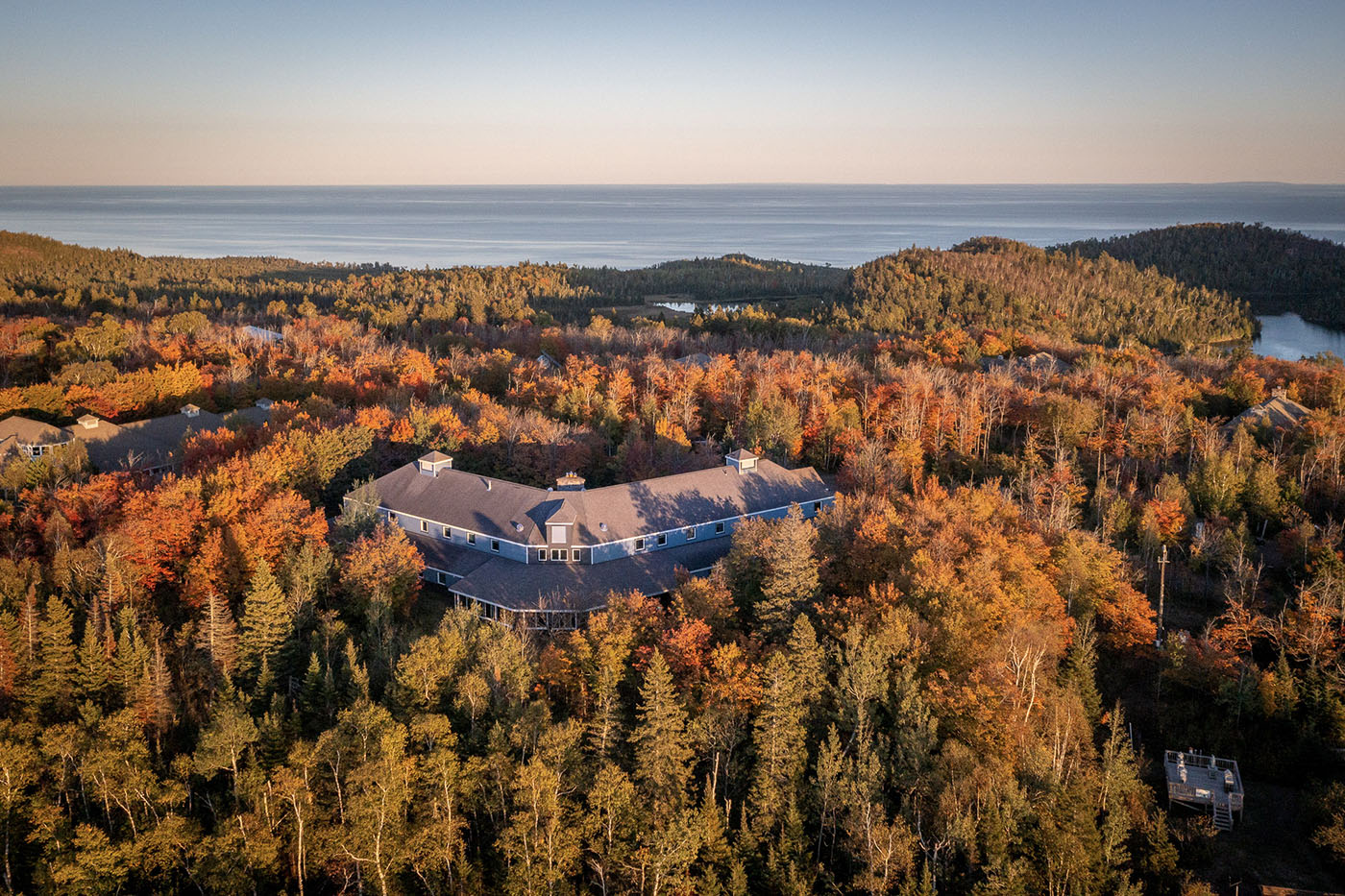 An aerial view of the MAC Lodge in fall. Photo by Chad Holder.
A first-of-its-kind project takes significant work and planning, however. Even before doing the MAC Lodge renovations, Wolf Ridge built the Lakeview Staff House, a new dormitory set to LBC standards but not certified. This gave the Wolf Ridge team the opportunity to learn during the process and ensure that the MAC Lodge would be a success. While they didn't attain the certification for the staff house, it still accomplished their goals of sustainable expansion, and can be used as an educational tool.
Both projects undoubtedly had a major impact on Wolf Ridge's community. Smerud notes that multiple companies involved in the construction were significantly invested in the result, not simply as a business opportunity, but because it pushed them to develop sustainable products and services. As one example, Wolf Ridge had chosen a national manufacturer for paint, but late into construction, they discovered that the paint couldn't be approved for LBC standards. Wolf Ridge put out the call for a new paint, and found that based on their request from a year prior, Benjamin Moore & Co. had developed a compliant paint and gotten LBC approved — even though Wolf Ridge had not originally selected their product line. As a result, Benjamin Moore changed one of its most popular products to become more sustainable.
Naturally, Wolf Ridge then chose them for the job.
The impact extends beyond the construction phase as well. The MAC Lodge is made to be an educational tool, and students who stay there learn about energy conservation and climate change specifically through the context of the building — not just on a theoretical level, but with actual observations of their own energy consumption.
Smerud acknowledges that the LBC certification required years of dedicated work, but notes that because Wolf Ridge spearheaded such efforts, "future LBC projects will be so much easier."
Speaking to environmental issues more broadly, too, Smerud notes that he is often asked if the state of the environment is depressing, given the challenges.
"Absolutely not," he answers. "I have watched again and again … mammoth changes occur because a small group of people says there's a better way."
Blandford Nature Center's farm uses a unique customer model

Examples of CSA shares at Blandford Farm.Farms are not an unusual feature at nature centers — in fact, in the mid-2000s ANCA held an annual Farm Education Symposium, which led to the creation of the Farm-Based Education Network. Farming naturally fits into the sustainability that nature centers promote, including at Blandford Nature Center in Grand Rapids, Mich.
"Everybody has to eat," says Blandford Farm Manager Elizabeth Visser. "So if you're able to eat in a way that has less of an impact on the environment, I think that's one of the number one things we can do to be sustainable in our day-to-day choices."
Blandford Farm has hosted educational programs since 2010, when it also began to sell produce at the local farmers market. Since then the farm has steadily grown and developed new ways of creating connections with Blandford Nature Center's constituents, such as through its community-supported agriculture (CSA) model.
"Community-supported agriculture" as a specific term and concept was founded in 1986, and has since developed into a common model for small-scale farms throughout the US and elsewhere. In a CSA, a participant buys a share of a farm for a season, and in turn receives a portion of produce, typically on a weekly basis. This provides a steady source of revenue for the farm while participants receive fresh local produce. The model is also beneficial for sustainability, since it is structured on what the soil produces in a given season, rather than on only the customer's interests.
Though many nature centers have sustainable agriculture operations, the CSA model is still relatively uncommon among nature center farms. Visser sees it as an opportunity to develop more substantial connections, not unlike a general membership model for a nature center.
"The CSA members are able to connect more deeply," she says.
Not only do the CSA members receive food each week for a sustained period of time, but they also develop a personal relationship with the farm and nature center staff. Some members have now been participating in the CSA for years.
Blandford farm offers multiple types of CSAs throughout the year, with over 100 members for their most popular 20-week option in the late summer and early fall. Other options include herb and flower CSAs, which are growing in popularity.
Visser says that she hopes to continue innovating with farm programming beyond the CSA, and try new programs such as educating people on how to grow their own food. From her perspective, developing new programs and systems is essential to Blandford's mission of engaging and empowering its community through enriching experiences in nature.
"The more you can get people interested and connected to a sense of place," she says, "the more they're going to want to care about it and want to do things to protect it."
UPDATE ON TREMONT'S SCHOOLYARD NETWORK
Last year, we featured an article about how the Great Smoky Mountains Institute at Tremont was connecting with school teachers. Since their project was a great example of innovation, we asked for a brief update on what they're up to.


The Schoolyard Network (formerly the Community for Schoolyard Teaching and Learning) has a few exciting updates. Our monthly virtual gatherings continue to bring in a core group of local teachers, and we have also recruited 41 new faces since last Fall to share experiences getting kids outside at school. We've found a lot of energy around allowing teachers to share ways they have taken their kids outside in the past month (no outside experience is too small!) and seek advice about any challenges they may have faced. Tremont was also able to fill a position left vacant during COVID and hired a full time Manager of the Teacher Network, Annie Roth. With the additional staff support, we are expanding our reach within our local community.

From the start, one of our goals was to meet in person to facilitate curiosity in the outdoor spaces of our local educators, and in May 2022 we will do just that. Our Schoolyard Escape workshop will take place in an elementary schoolyard in Knoxville and target teachers from East Tennessee. Having first hand experiences in our local schoolyards promotes a connection to place, increases the relevancy reigniting the "why" for teachers, and provides the tools to share these adventures with students. It will be a fun opportunity for teachers to harness their own innate curiosity and wonder as learners, and spread this joy to their students.

Curious to learn more? Click here for information about The Schoolyard Network, or to read write ups of previous meetings.

Erin Canter, Manager of Science Literacy and Research
Great Smoky Mountains Institute at Tremont
Innovation changes with time
Of course, nature centers cannot innovate only for the sake of innovation; changes must be coupled with strategic goals and effective implementation. When done correctly, however, nature centers can have profound and transformative new impacts on their communities. In doing so these organizations can be examples of constant improvement and can lead other organizations to make beneficial changes.
As Smerud notes of the LBC certification, too, innovation changes with time.
"Thirty years from now, there will be a new model," he says, "and all of what we've done now will be looked at as obsolete."
In this case, that obsolescence is a welcome change, as we hope to see the current high standards become the norm — but that wouldn't be possible without the initial innovation.
This article was adapted from Directions, the ANCA journal that features news, trends in the field, and resources for ANCA members. Are you interested in becoming an ANCA member? See the benefits: