by Asa Duffee, ANCA Marketing & Communications Coordinator
As you read this article, consider the space and energy around you: the walls that surround you, the floor beneath your feet, the electricity that powers your digital devices, the nearest sources of food and potable water. Take note of where these objects came from and where they will go in the future. Are they sustainably or locally sourced? Does your energy have an overall destructive or regenerative impact?
These are questions that many nature centers and environmental learning centers address as they consider how our field can enact a more sustainable and environmentally-just world. As such nature centers are proving to be leaders at the forefront of "green building," an umbrella term for sustainable construction of all sorts.
This movement of green building has gone through a revolution in the past three decades, with a wide variety of certifications growing to qualify what a green building is or does. The first such certification, the Building Research Establishment's Environmental Assessment Method (BREEAM), was established in 1990, but these days perhaps the most well-known certification is the Leadership in Energy and Environmental Design (LEED) certification, originally instituted in 2000. Since then other popular certifications have developed, including Passive House, Green Globes, and the Living Building Challenge.
Living Building Challenge
The Living Building Challenge is particularly notable — the organization behind it, the International Future Living Institute, claims that it is "the world's most rigorous proven performance standard for buildings." This certification uses seven criteria, identified as "petals," to certify buildings that "like a flower, give more than they take." Buildings that fulfill all seven petals are certified Living, whereas buildings can also be Petal certified if they fulfill three-to-six petals.
The Living Building Challenge launched in 2009 and has since become a gold standard for regenerative design. Its numbers are telling — there are only 52 buildings in the world that are Petal or Living certified as of this writing. For comparison, LEED has certified over 122,000 buildings, with over 95,000 in the US.
It's remarkable, then, that two ANCA members have completed the Living Building Challenge; Frick Environmental Center in Pittsburgh, Pennsylvania is Living certified and Indian Creek Nature Center in Cedar Rapids, Iowa is Petal certified, and a number of other ANCA members are in the process of construction and/or certification.
The Ecology School in Saco, Maine, is in the process of constructing two Living Building Challenge certified buildings on their newly acquired property, and President & CEO Drew Dumsch says that other certifications didn't fit their goals.
"Doing LEED certification, even Platinum, didn't seem like it was groundbreaking enough," Dumsch says. "When I looked at the Living Building Challenge ... it felt like it was describing what we wanted to do anyway."
Jean Wiedenheft, Director of Land Stewardship at Indian Creek Nature Center, reports that they had a similar process. "We looked at LEED, we looked at Green Globes," she says. "We went with the Living Building Challenge because we liked the rigor. We like that it really is pushing the leading edge of green design."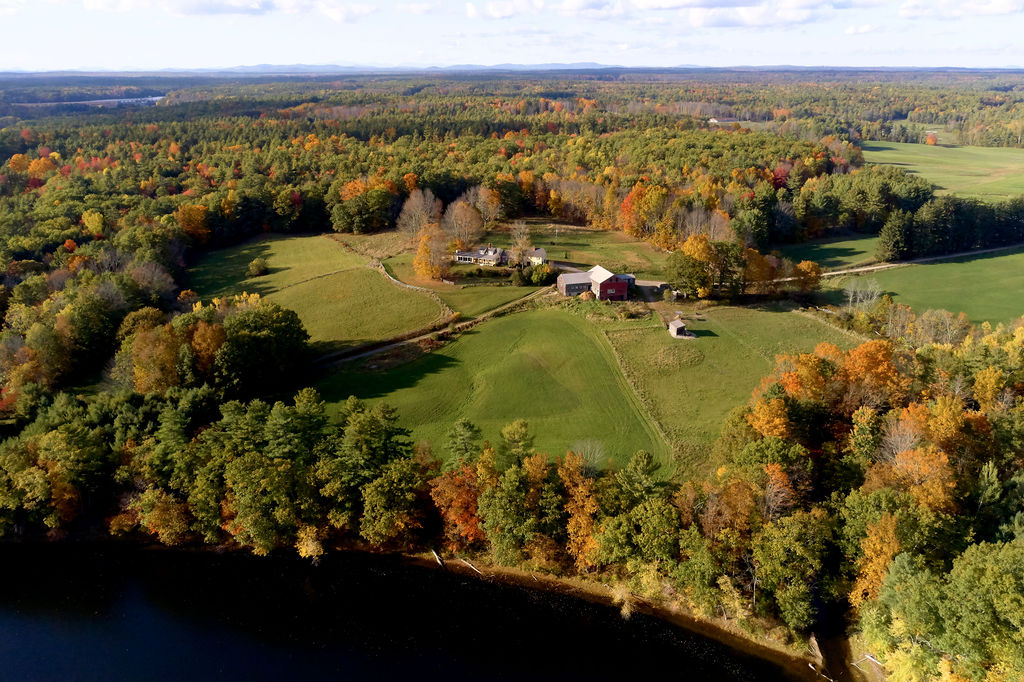 The Ecology School's recently acquired property, River Bend Farm.
Weighing the Benefits and Costs of Certification
Of course, public institutions like nature centers aren't doing such an intense certification process just for the result of a sustainable building to keep to themselves — there's an aspect of demonstrating to the public what is possible, and how visitors might design their own spaces and energy consumption/production in the future.
"It's a way for us to provide resources and knowledge to the community and really show how we can create a more sustainable future," Wiedenheft says.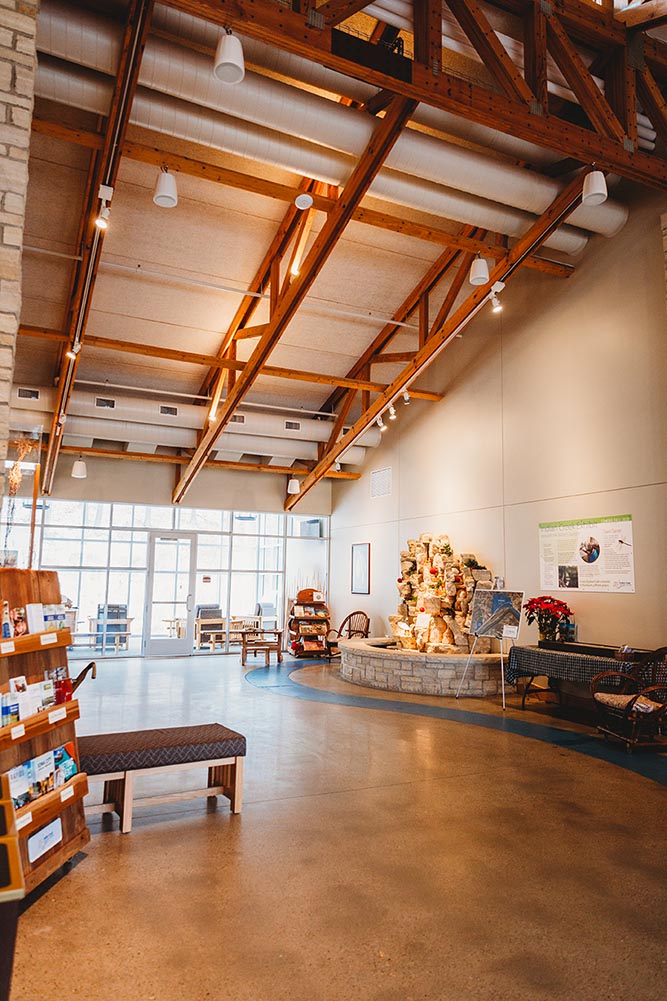 Inside Indian Creek Nature Center's
Amazing Space building.
Photo by Liz Zabel.Part of that demonstration is not just in the product, but in the process — after all, it's not the actual nature center staff who are single-handedly building the structures. By involving local construction workers, architects, and resource providers, one project introduces novel sustainable construction techniques to those local audiences. According to a Mainebiz article about The Ecology School's buildings, one lumber supplier even acquired Forest Stewardship Council certification because of that project. Dumsch also mentioned how the certification significantly reduces carbon emissions throughout the development and construction processes.
Naturally, it's not easy to meet the Living Building Challenge standards. Both Dumsch and Wiedenheft noted that the process was significantly more expensive than standard construction techniques, due to a longer planning process and cost of materials. In the case of Indian Creek Nature Center, the organization did not pursue the Materials petal because of prohibitive cost involved. Wiedenheft estimated that if they had wanted that petal, they would have lengthened the construction process by a year, and "would have increased fundraising to the point where we would have been very challenged to do it."
Depending on an organization's audience, that extra cost may or may not be worth it. For Indian Creek and The Ecology School, both organizations feel that pursuing such a certification was the right choice for fundraising. "Our hope was that being so big and bold and visionary on this project that we would attract more funding rather than less, had we done LEED platinum, WELL building, Passive House or some of the other certifications out there," Dumsch says. The certification also provides benefits of name recognition, and offers more visibility through the certifying organization.
The expense may not necessarily align with an organization's goals, though. Wayne Turner, who currently works with the Wasatch Mountain Institute, has been involved in major construction projects with the Teton Science Schools in Jackson Hole, Wyoming and the Ashokan Center in Olivebridge, New York. In both cases the organizations chose not to pursue green building certification.
Speaking specifically of the Teton Science Schools project in the mid-2000s, Turner says that they considered LEED certification but noted that it would have driven up costs — and being in a fiscally-conservative area, this would have been a significant challenge for fundraising. "As a consequence, we reluctantly chose to not pursue the certification but decided actively that we would design these facilities and these buildings … in such a way that they would be very environmentally-thoughtful."
Turner says that with their focus on sustainability, the buildings were still a model for the organization's audience, even without a specific certification. "At the time that we opened the Jackson Campus in 2005, they had to have been the highest-performing buildings in the state of Wyoming."
Because of Indian Creek Nature Center's commitment to the Living Building Challenge, however, they have been able to expand upon programs and their relevance to the community. Attendance has doubled since the new building was constructed, and now the center offers programs on sustainability that wouldn't have been possible before. While such expansions may still have been possible without the certification, the organization has clearly benefited from the attention surrounding its certification, and it can claim it has the first — and presently only — Petal-certified building in Iowa.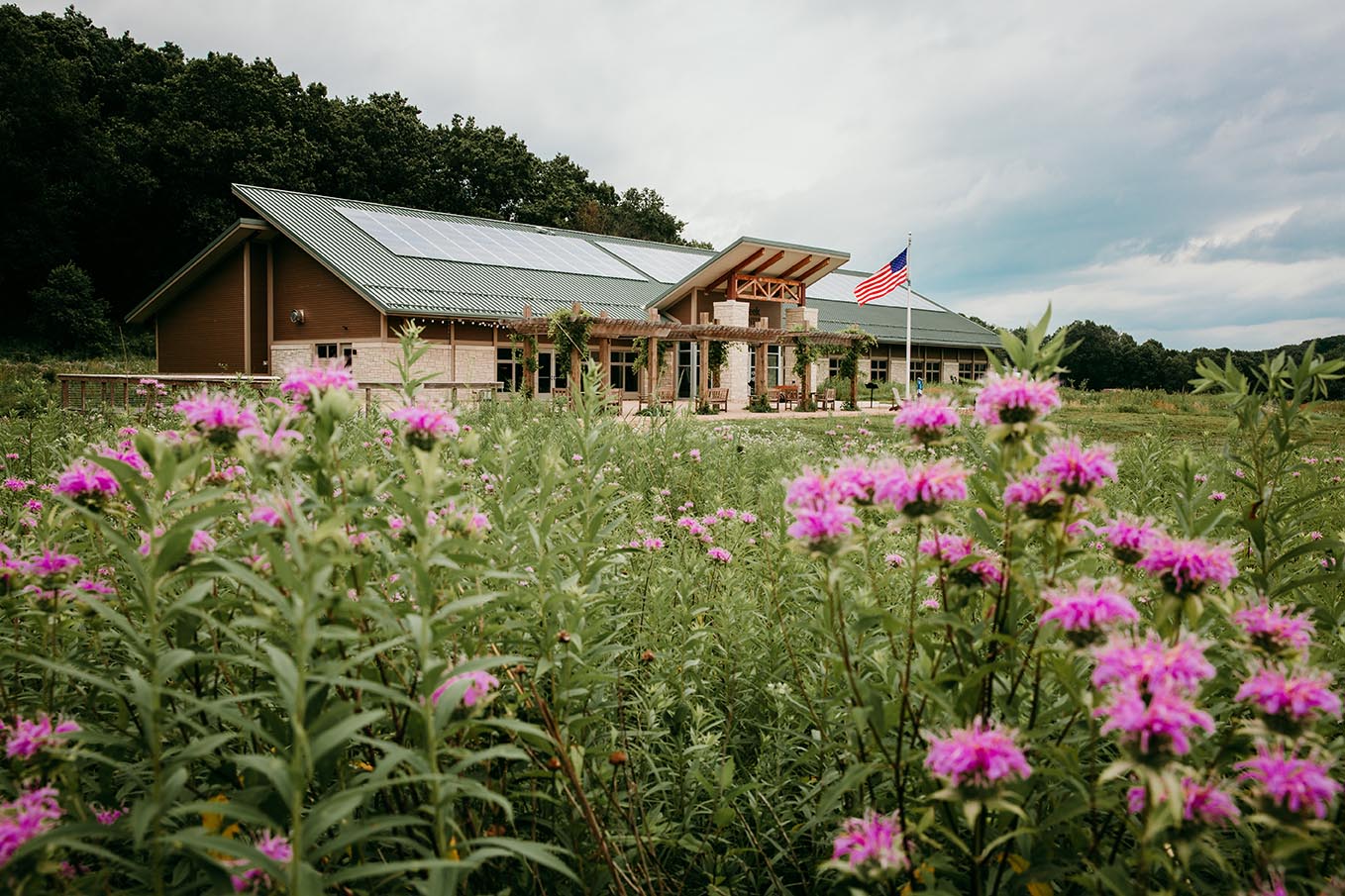 Indian Creek Nature Center's Amazing Space building. Photo by Liz Zabel.
The larger picture of sustainability
The new growth of green building construction is just one part of how nature centers are on the forefront of sustainability in their communities. Both Indian Creek Nature Center and The Ecology School see their buildings as a piece of the puzzle, and it's notable that each organization has also acquired land specifically for sustainable agriculture.
For The Ecology School as a residential environmental learning center, Dumsch wants a holistic experience that opens visitors' eyes to the possibility of a truly sustainable world. To that end the organization is even pursuing another certification from the International Future Living Institute, deemed the Living Community Challenge — and according to Dumsch, The Ecology School is the first organization to submit a complete master plan for the certification.
"It's not only the buildings," Dumsch says. "It's agriculture, community, resiliency, transportation."
Wiedenheft agrees that it's central to Indian Creek's operations to show all aspects of sustainability.
"Nature is more than just the plants out there," she says. "Nature is part of everything people do in their everyday lives, so helping them recognize that and being a model for what people can do is really important as a nature center."
—
Note: This article was originally published in the Winter 2020 issue of "Directions," the ANCA journal. Members can always access the full issue via the member portal. If you're curious about membership, see our membership levels.