by Jen Levy, ANCA Executive Director
The news has been overwhelming. The headlines have been inundated with stories of mass shootings, war, unimaginable human suffering, and political gridlock. It can be hard to remain committed to a better future, but it is critical to recognize stories of unity, progress, and effective leadership.
I am fortunate to have a job that aligns with my personal values and passions. ANCA has provided me with moments of joy and great satisfaction. Please join me in reflecting on the power of positive leadership: what are your professional triumphs, breakthroughs, and tales of inspiration? How often are they celebrated?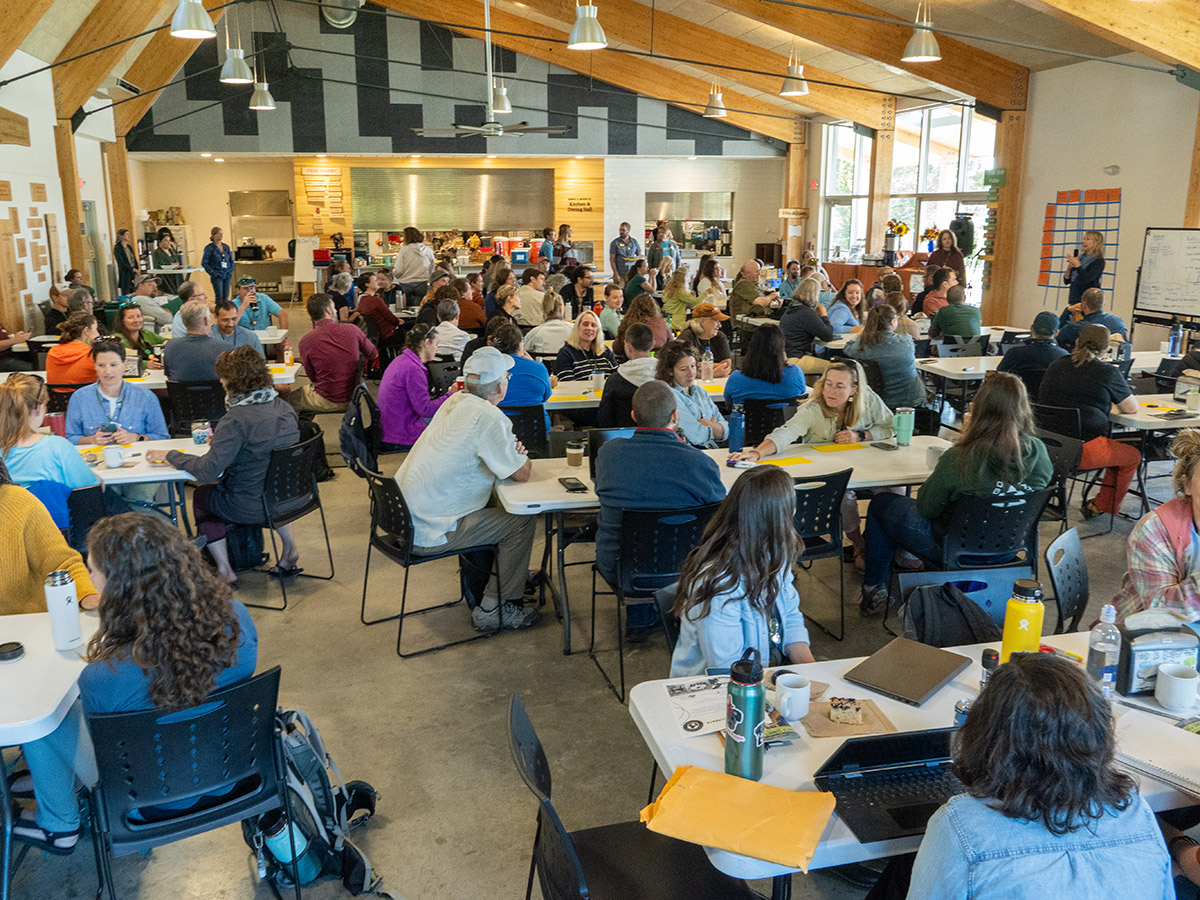 2023 ANCA Annual Summit attendees participate in an "Open Space" process, where anyone may create a session.I want to celebrate a few moments from the ANCA Annual Summit in August. These moments demonstrate strong and effective leadership, continuous learning, and a desire for a better future.
Both of the 2023 ANCA Leadership Award recipients are exceptional leaders who demonstrate vision, integrity, empathy, resilience, and adaptability. Pete Smerud and Veronica Frehm reflected on the importance of our work and the ability to change lives and communities when they accepted their awards in Maine in August. They conveyed a strong sense of direction and purpose that left me feeling confident in our peer network.
I love that we are considering alternative leadership models. Glenna Holstein and Mike Larson are ANCA members who have known each other for 15 years and together they led a session at the Summit on the ideas and practices of shared leadership. One of the session participants sent a note of thanks after the session that said, "I can tell you that was the most excited group of people in the room and really just desperate for what Mike and Glenna were saying. But an hour was absolutely not enough time to get all the information that they had to share about shared leadership." Without hesitation, Glenna and Mike agreed to share more — read their article in Directions and register for the December 13th ANCA CONNECTS, Cultivating Shared Leadership on Your Team.
As an organization we value learning and sharing, and we are a supportive community. That was evident in the Summit session, Putting Staff First: Personnel Policy Overhaul. ANCA Members Naomi Heindel and Nick Katrick met at the 2022 ANCA Annual Summit, connecting as first-time attendees and brand-new executive directors from Vermont. They were also leading comprehensive personnel policy reviews to improve benefits, clarify gray areas, and support their employees and organizations. Throughout the work, they consulted with each other, and after successfully introducing new policies at their centers, decided to bring what they learned to the Summit. I attended their session, and it was excellent. Read more about their process here in Directions.
The Maine Coast Summit was my 17th as the executive director of ANCA, and I left the event feeling hopeful for the future. I want to thank and celebrate all of the individuals who contributed to its success. First, our hosts, The Ecology School. They are a joy to work with and embody visionary leadership and extraordinary hospitality. Second, the ANCA Board of Directors. I am incredibly grateful for their support and encouragement and for serving as exceptional leaders and mentors. I am most thankful for the work of Asa Duffee, ANCA's Director of Marketing & Communications and Dan Auer, ANCA's Membership & Programs Coordinator. Asa and Dan took on a bulk of the planning and did an extraordinary job. It was incredibly satisfying to realize a dream of having a full-time staff who not only share the work of ANCA, but who bring energy, talent, new ideas, and effective leadership to our network.
Advertisements