Naomi Heindel, Executive Director of North Branch Nature Center in Montpelier, Vt.
Nikolas Katrick, Executive Director of The Nature Museum in Grafton, Vt.
At the 2022 ANCA Annual Summit, we met and discovered that we were both new Executive Directors of small nature centers in Vermont — and that we were both in the midst of personnel policy and benefits overhauls. We decided to stay in touch, shared our revised policies with each other, and then co-presented a facilitated discussion on the topic at the 2023 ANCA Annual Summit. For both of us, this process of overhauling our personnel policies and benefits has been about putting staff first. We're excited to share our process and guiding principles here and hope that other nature center leaders will undertake this important work to support their staff.
Naomi: I became Executive Director of North Branch Nature Center (NBNC) in 2022, following in the footsteps of NBNC's founding director. The organization has grown a lot in its 26 years, and now has a staff of almost 20 and a budget of over $1 million. I found that our personnel policies and employee benefits, however, hadn't grown up in parallel. Together with an HR Committee and HR Consultant, I spent a good part of my first year diving in deep to bring NBNC's policies and benefits up to speed.
Nick: When I was hired as the Executive Director of The Nature Museum (TNM) in 2021, we already had a professionally written and reviewed employee handbook — but the pandemic was a catalyst for many changes at our small organization (annual budget of ~$300,000). In 2022, our HR Committee and I looked at PTO policies to make room for Covid-19 related leave, but expanded our work to make several other small, but important changes to our employee handbook.
Five Principles for the Process
When revising personnel policies at our respective organizations, five principles guided our process.
1. Provide structure and clarity in order to support staff
When we work at small, community-oriented organizations, it's easy to think we don't need structure or policies, that we can keep things unwritten and casual. As the NBNC personnel policy grew longer, Naomi worried that lengthening the policy was unnecessary, overdone, or risked making NBNC feel corporate. Actually, staff need structure and clarity to feel supported. One newer staff member specifically said that having all the policies written down reinforced boundaries, provided safety and security in her job, and meant that subjective interpretation, usually honed after decades at a job, wasn't required for understanding basic things like how time off worked.
2. Support diversity among staff
Nature centers celebrate and teach about the resilience, power, and beauty of diversity in the surrounding world on a daily basis. Modeling those values has to start from within. An employee handbook is among the first documents a new employee receives; making sure those employees are appreciated, acknowledged, and their needs accommodated sends a clear signal about their value in the organization. First and foremost, consider gender-inclusive language in the handbook. "He and/or she" is outdated and doesn't reflect actual gender diversity in our populations. Using "they/them" is a great first step, though there are other options as well.
Non-discrimination statements indicate that your organization is serious about inclusivity. Look to federal and state regulations for what's required, but if they are lacking, consider statements from organizations you trust and have a good track record for supporting diversity. Similarly, you may have state regulations around minimum parental and family leave, including accommodations for lactating parents. Also consider your policy around holidays. TNM decided to give staff the choice of when to take their compensated holidays (12 for full-time, 8 for part-time). This does involve an extra step of discussing schedules with supervisors, but it gives flexibility for staff to take holidays that work with their traditions, schedule, and family.
3. Build appreciation and gratitude for staff into language and practice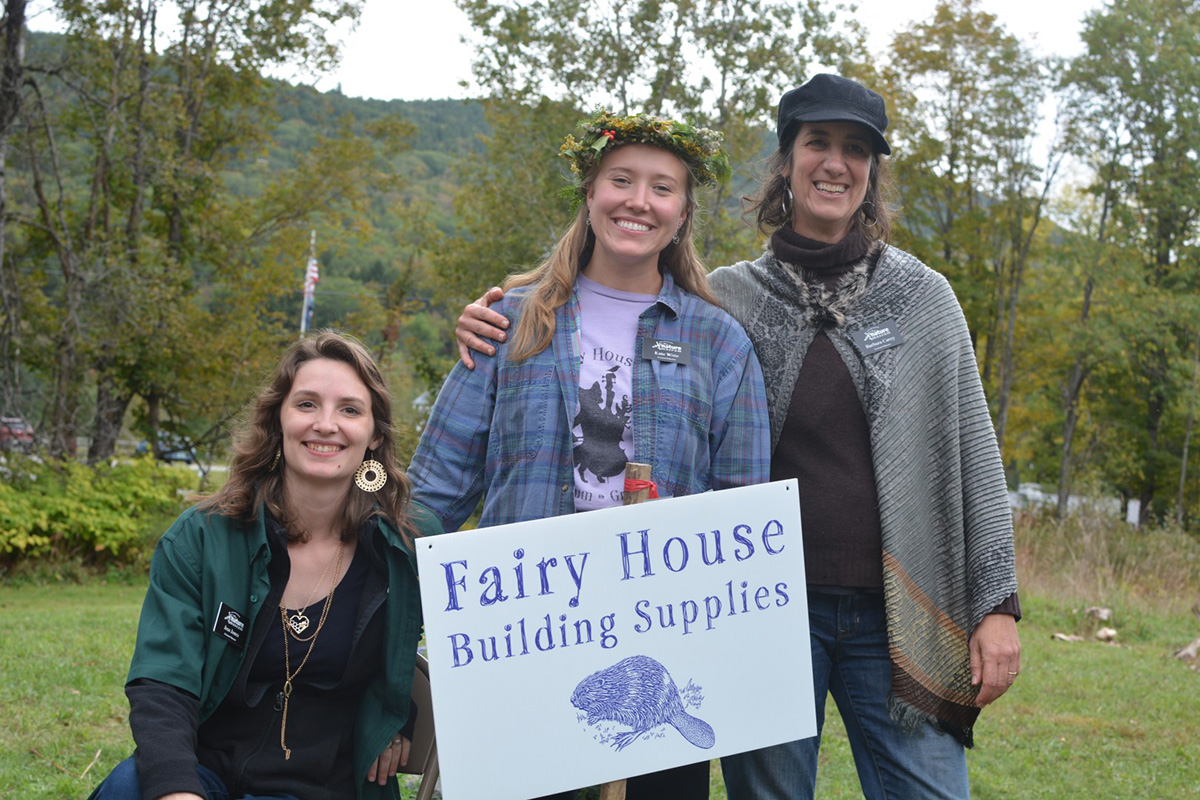 Staff at The Nature Museum.Staff are often the lifeblood of an organization. Their work culture, skills, interests, and countless hours of effort drive forward organizational missions. Recognizing those efforts isn't just nice — it's essential. Too often, nonprofit culture encourages overworking, inappropriate volunteerism, and burnout as a badge of honor. The only way to counter these physically, emotionally, and organizationally destructive behaviors is to steer the other direction with intention and action.
TNM now gives full-time employees 15-20 vacation days, 10 sick days, and 12 flexible holidays per year, in addition to a flexible vacation policy. This is a first step toward a healthier time-off policy, but not an end point. Also, handbook language is only one part of the equation. You can have unlimited vacation days at your organization, but it means nothing if the staff culture discourages use of time off. Employees that have time off for family, creative pursuits, travel, or to simply do nothing at all will be healthier, happier, and bring more back to your organization. In this way, gratitude is a regular combination of listening, recognition, acknowledgement, and action. Say "thank you" over and over again — and mean it.
4. Provide clarity on types of positions
At NBNC, part of the policy revamp involved classifying each employee, determining whether they were hourly or salaried, full-time or part-time, school-year, and exempt or non-exempt. Before doing this, employee classification was murky, leading to equally murky understandings of time off, flex time, accrual, pay, and more. This was the hardest part of the revamp, especially because it meant treating different types of employees differently, which is challenging at an organization that values equality. In the end, especially after new letters of hire and individual conversations to go over the details for everyone, it led to a collective sigh of relief, not to mention practices better in line with labor laws.
5. Match policies and benefits to positions
NBNC, like so many nature centers, has staff doing wildly different jobs, ranging from full-time and part-time administrators, to preschool teachers, to summer camp staff. Before this revamp, benefits and policies were applied the same across the board, without regard to position differences. By carefully considering staff rhythms, NBNC crafted policies and benefits that actually varied from job to job, thus better supporting staff schedules and improving sustainability and morale. For example, since the organization's fiscal year starts January 1st, preschool teachers did not accrue enough PTO to take time off during a February break. So, NBNC moved preschool teachers onto a school-year schedule, with their time off matching the school calendar, rather than accruing from the start of the fiscal year. These structural changes made a huge difference in staff feeling understood and valued.
Updating your own personnel policies
We suggest working with an HR professional during the process who can research potential new benefits, compare policies to state statutes, and add HR language. In addition, we found it helpful to start a document of future changes right away, to make the next revamp all the easier.
There are many dimensions to consider when reviewing personnel policies and benefits at your organization, and because every organization will have different needs, there is no "one-size fits all" solution. We feel these five principles are a great way to start your personnel policy overhaul by putting staff first. We encourage you to reach out to colleagues and other nature centers for help and advice. And remember, you're not alone!
—
In addition to other changes mentioned in this article, NBNC and TNM also implemented these updates:
North Branch Nature Center
started retirement accounts
added two holidays
accelerated our leave accrual ladder
doubled sick leave
added personal days for school-year employees
changed the flex time system
added unpaid leave
continued health insurance through the summer for school-year employees
changed the program fee waiver system
added a merchandise discount
added 17 other new policies, covering things from work locations to social media to voting
The Nature Museum
moved from a combined PTO policy to separate sick time, vacation time, and holiday time (as well as made each more generous and flexible)
made the language more gender inclusive
updated the healthcare benefit policy
updated language around drug and alcohol use to reflect Vermont's laws
considered the impact and practicality of "confidential" salaries
clarified what roles the Executive Director and the Board of Directors have around the hiring and review of employees
Advertisements