by Asa Duffee, ANCA Director of Marketing & Communications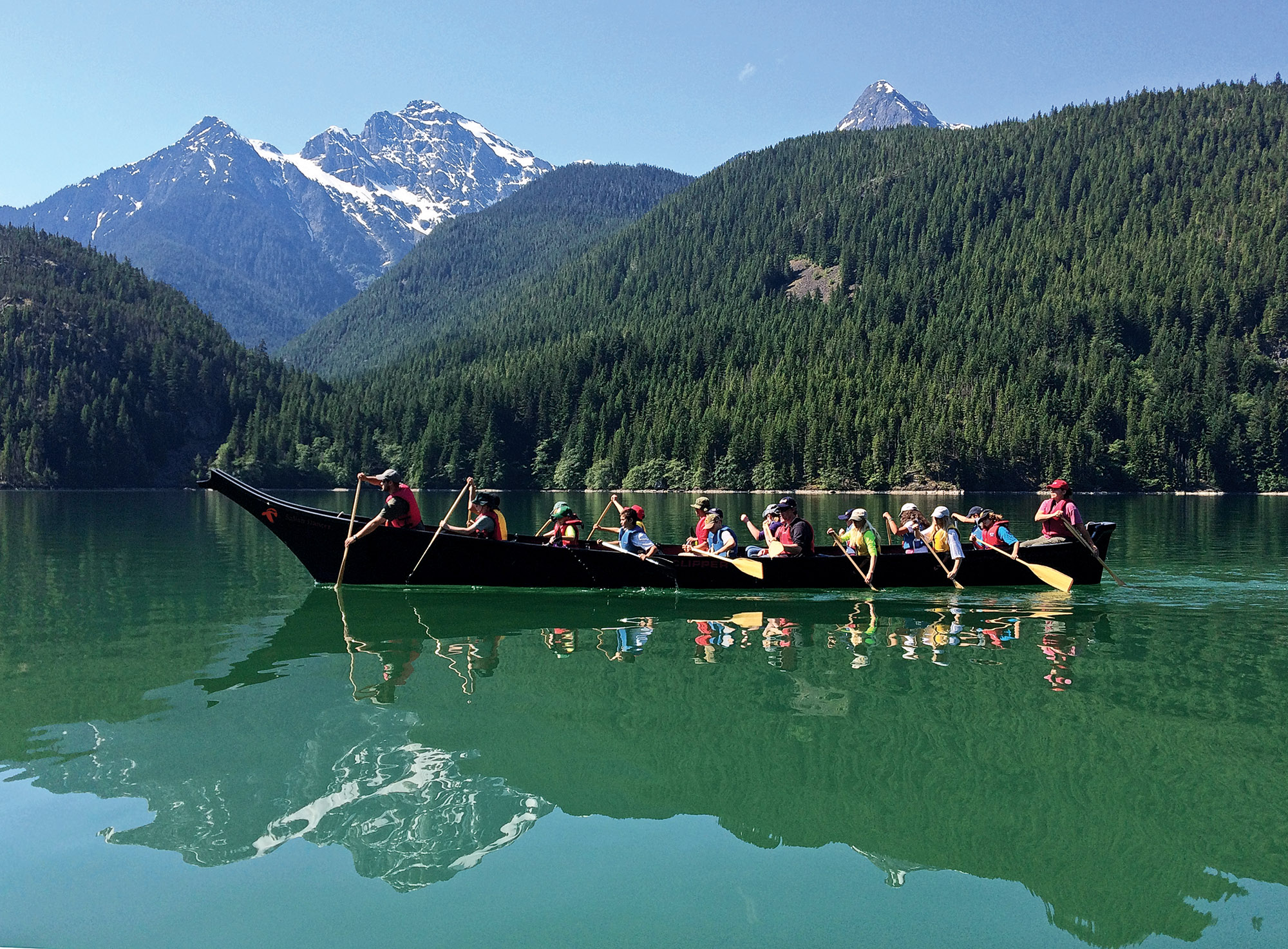 A program at North Cascades Institute, an outdoor school in Washington.
ANCA serves a variety of organizations, all with similar missions of connecting people with the outdoors and protecting natural habitats. However, organizations differ in their methods. Some offer brief programs for school field trips, some operate nature-based preschools that host the same children each day, and others host public programs for all ages.
Unique among these organizations is the outdoor school, which offers overnight programs over multiple days. These programs are youth-based and academic, typically operating through school partnerships where students and classroom teachers participate together, sharing educational activities and meals.
In recent years, a growing movement has been seeking to expand opportunities for children to attend outdoor schools. This movement, called Outdoor School for All (OSFA), has already established statewide funding in Oregon and Washington, with other state legislations considering funding now.
ANCA has begun coordinating a national Outdoor School for All campaign that aims to provide every child in the U.S. with at least one outdoor school experience during their K-12 education. The campaign's goals include establishing new outdoor schools, strengthening existing programs, and providing funding for more students to access these organizations.
Why outdoor schools?
Outdoor schools offer a one-of-a-kind experience for students. By hosting programs over multiple days, these organizations offer unparalleled immersion in a learning environment focused on the outdoors.
Because outdoor school programs are academic in nature, they go beyond recreational activities by incorporating experiential learning in science, conservation, and sustainability; students learn hands-on through observation and study. Many outdoor schools are accredited as educational institutions.
Outdoor school programs also feature social and emotional learning that develops participants' sense of self and community. Because they live and learn together, students develop close ties to their surroundings and peers, all the while engaging in the immersive study of ecological processes and how people connect to the environment.
This translates to strong impacts for students. In one study of teachers whose classrooms attended outdoor school in Oregon, 73 percent reported that the outdoor school experience either moderately or substantially improved their students' school engagement. The same study surveyed over 3,000 students who participated in outdoor school and found that because of their outdoor school experience, those students are more motivated to learn, more likely to positively engage in school, and more likely to perform environmental stewardship behaviors.
For all of these reasons, ANCA supports the outdoor school industry and is leading the movement for expanding outdoor school experiences to students across the country.
Washington establishes some funding, and hopes to build regular funds for outdoor schools
The state of Washington has a long history of outdoor school, with many outdoor schools starting in the 1940s and 50s. Today a number of outdoor schools are spread throughout the state, including ANCA members IslandWood, Mount St. Helens Institute, NatureBridge, North Cascades Institute, and Waskowitz Outdoor Education Center.
A little over ten years ago, these organizations came together to share best practices and resources. This became known as the Washington Outdoor School Coalition (WOSC), and while WOSC initially formed for these outdoor schools to communicate with and support each other, in 2016 conversations began about Outdoor School for All statewide funding. That year Oregon voters passed a ballot measure that authorized funds to provide an outdoor school experience for every fifth- and sixth-grade student in the state — and WOSC saw this as momentum that could inspire their work.
In the years that followed, WOSC developed the networks and support needed to secure funding for OSFA. The funding began with $10 million in 2021 via COVID relief funds, and then in 2022 the state legislature passed a bill that supported the development of outdoor education programs, allocated grants to school districts and outdoor school providers, and directly funded overnight outdoor school experiences for fifth- and sixth-grade students.
The movement has garnered support from Washington Governor Jay Inslee, who himself attended an outdoor school, Camp Waskowitz, as a student. With Inslee's support, the state legislature recently allocated $40 million to outdoor school funding for the next two years. $31.8M is specifically allocated for overnight school, and most of the remaining balance is for K-12 outdoor education programs.
While the success of Outdoor School for All in Washington has been years in the making, the work is proving fruitful, says Talia Schmitt, Coalition Manager of WOSC. Schmitt notes that the legislation had widespread bipartisan support in both the House (92-5) and the Senate (44-3).
"It seems to cross political boundaries," Schmitt says. "And that's a really exciting prospect."
Jeff Giesen, Associate Director of North Cascades Institute in Sedro Woolley, Wash., agrees that Outdoor School for All holds appeal beyond just a single audience.
"The Outdoor School for All movement is for kids, and it is for schools, but it's going to … expand the reach of the outdoors for many, many people," Giesen says, noting that creating more outdoor school experiences will involve broad networks of people.
Maryland builds a coalition for its own Outdoor School for All
On the other side of the continent, organizations in Maryland are in the process of advocating for statewide Outdoor School for All funding. One of the leading organizations in this effort is ANCA member NorthBay, an outdoor school near the northernmost point of Chesapeake Bay.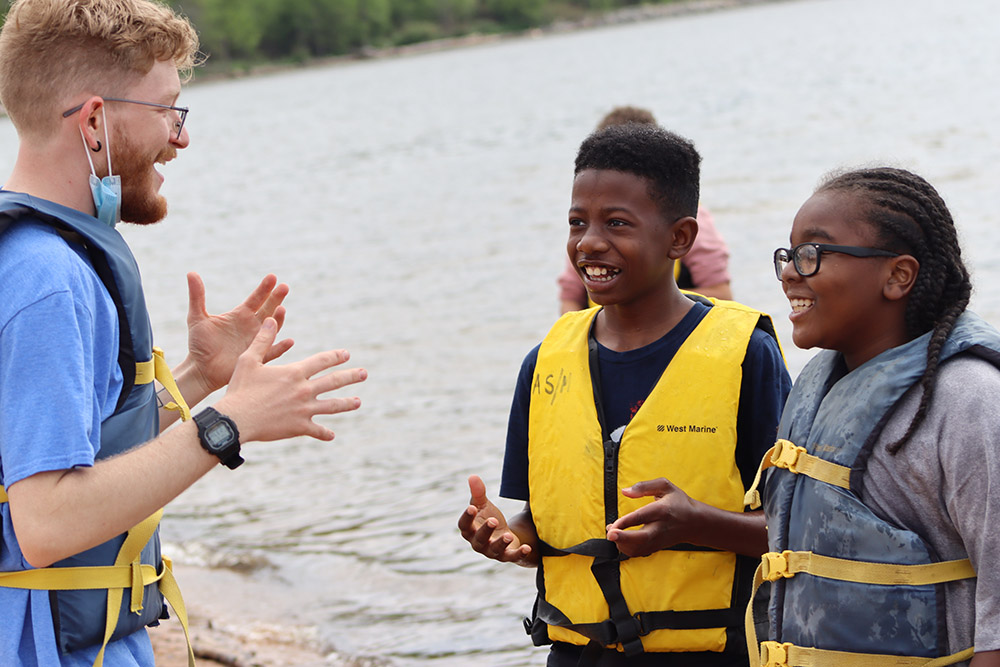 A program at NorthBay.Rick Garber, Director of Education at NorthBay, says that the organization didn't start its advocacy efforts identifying with Outdoor School for All, but rather began with the goal of providing equitable access to environmental education for Maryland students. Only during this process did NorthBay come to discover the broader Outdoor School for All movement, whose cornerstone is equitable access for all children, proving a perfect fit for NorthBay's goals.
Maryland as a state has well-established standards for environmental education, particularly surrounding watersheds. However, these come as an unfunded mandate, which makes for discrepancies in how schools are able to comply with those standards. As such NorthBay and other organizations are working with lawmakers to allocate more significant funding to outdoor schools and other environmental education programs.
The largest step for this advocacy work is building a strong coalition that includes legislators, outdoor schools, environmental foundations, and school systems, all working together. But how does one actually build this coalition?
"The old-fashioned way," says Garber. "Face to face."
This winter and spring he's been meeting with legislators, school representatives, and environmental education leaders all over the state. This kind of personal contact has been essential for building meaningful relationships with the wide variety of constituents and representatives involved in this process. Sometimes NorthBay has been able to build such connections at gatherings such as the Maryland Association for Environmental Outdoor Education Annual Conference, but often it takes the initiative of reaching out to individuals and then meeting at their own site or location.
Currently NorthBay is focusing efforts on building this larger coalition, with the prospect of securing funding during the legislative session that begins in January 2024.
Recommendations for campaigns in other states
Advocacy work on this level will look different in each state, as will the funding systems that are available to implement Outdoor School for All. Yet, it is entirely possible for states to develop their own Outdoor School for All campaigns; ANCA has identified nine states with current Outdoor School for All campaigns.
For developing campaigns, Schmitt advises that building a strong network is the crucial first step.
"One of the things I would recommend for states who are starting up an Outdoor School for All campaign is to build up your coalition and have this active voice of alumni, providers, and basically all these cheerleaders throughout the state," Schmitt says. "Then you have all these supporters and potentially funders who are part of that coalition, who are excited to step in and help with that funding."
Garber recommends the same, noting that a solid coalition will allow more paths to connect with legislators and other stakeholders.
"If I could go back and do it more efficiently, I'd start with more of the local and statewide coalition building, because there's going to be all sorts of connections within that," he says. "We have to, for these efforts to be successful, have access to decision makers."
A coalition comes with significant benefits, but also has the challenge of uniting stakeholders around a common goal. Schmitt notes that as an advocate for outdoor schools in particular, it's important to prioritize this particular type of organization, while also balancing the need for more environmental education funding as a whole.
"We have administrators, teachers, superintendents, providers, alumni, and we have all of these different voices," she says. "One of the challenges is … making sure that everybody is rooting for the same thing and is on the same page in terms of advocating for outdoor environmental education, but also recognizing that there is so much value to the overnight experience."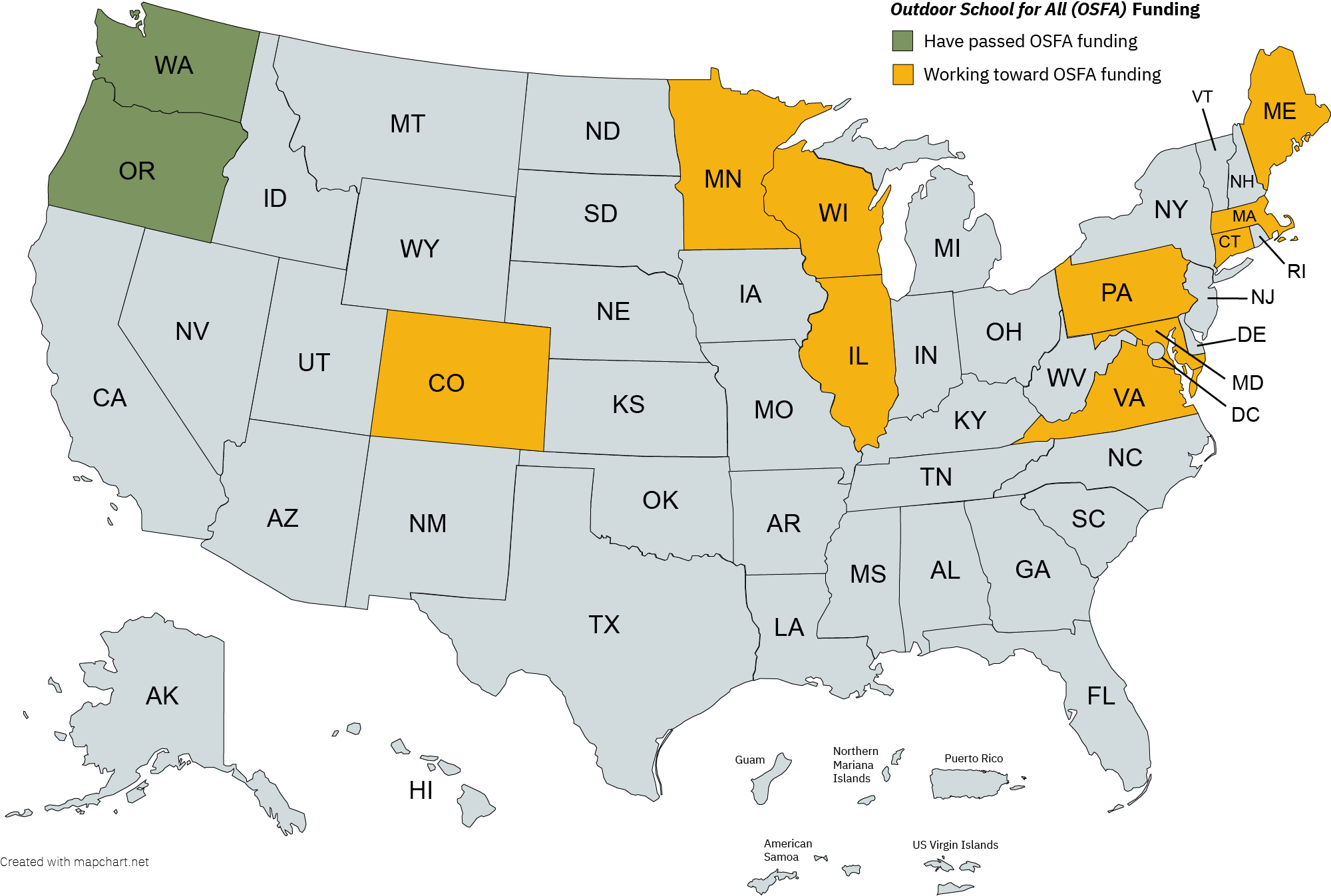 Looking at the prospect of national Outdoor School for All
The goal of the national Outdoor School for All campaign is to provide every student in the U.S. with an outdoor school experience, but of course this is no small feat. In order to accomplish such a goal, we as an industry need to develop the capacity of outdoor schools — including establishing outdoor schools in regions where there are none or few — while also building coalitions and advocating for funding. This is a major undertaking.
While ANCA supports national funding for this movement, we are also invested in pursuing Outdoor School for All on a statewide basis.
"I think it is going to take a state-by-state approach," Garber says, noting that success in one state can easily translate into success in neighboring states. "That's how the movement gets going."
Giesen also sees statewide Outdoor School for All campaigns as part of the process to work toward a national level. Once a critical mass of states are invested in outdoor schools, it will be easier to pursue national funding. Still, he acknowledges that the movement for national support has come a long way.
"I don't think that five years ago, we would have thought we'd be here," Giesen says. "Even the fact that we're talking about it … it's pretty amazing."
Schmitt is optimistic about the broader movement as well, especially now that both Oregon and Washington have established statewide programs. These examples allow more recent campaigns to learn from others' successes and challenges.
"States that want to try and create an outdoor school program in their state, they have models to look at, they have people, they have mentors," she says. "So is this [national movement] possible? Yes, I think absolutely it is."
Centering joy and purpose in the work
While the journey to national Outdoor School for All will require significant time, energy, and resources, the road ahead does not need to be drudgery. Schmitt acknowledges that this advocacy work can be intense, but maintains that it's productive to focus on the joy that the work brings.
​"There's so much joy in connecting folks that are all passionate about the same thing and looking for different people to learn from and grow from this experience," she says. "I'm just excited to see where it goes."
After all, we have reason to invest this much effort, asserts Giesen.
"It's for the good of all," he says. "We know that more kids outdoors is better for this world."
In partnership with a consortium of outdoor schools, ANCA is working to expand the national Outdoor School for All movement. If you are interested in engaging in the Outdoor School For All movement, please complete this form to help identify outdoor schools and express your interest.