INTRODUCTION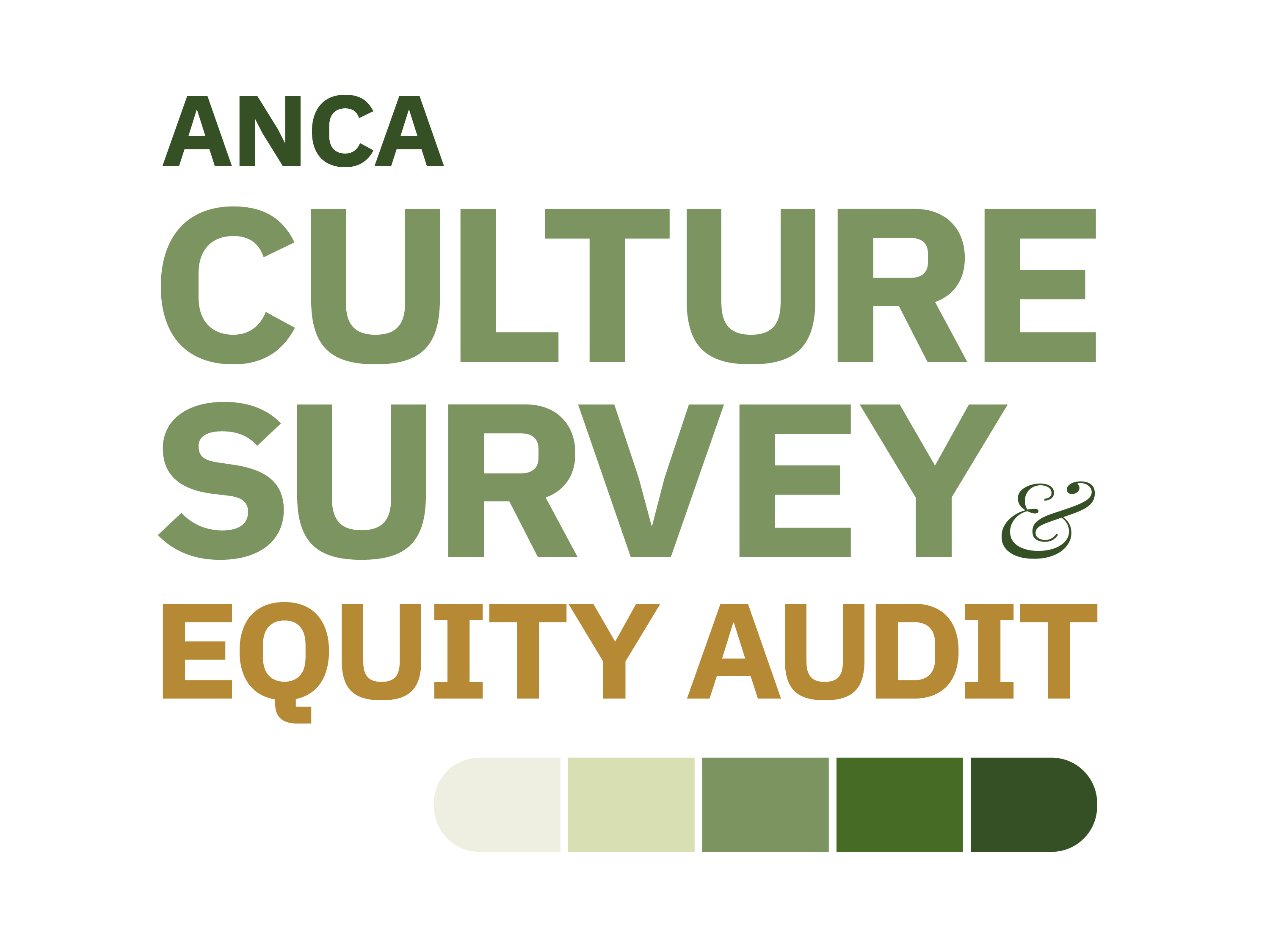 In our most recent strategic plan, ANCA 2025, we stated a desire to promote diversity, equity, and inclusion within our membership and the profession. As an organization and an industry, however, in the past we have struggled to quantify the data needed to provide critical feedback for improvement.
Therefore in early 2022 we implemented the ANCA Culture Survey to establish a benchmark of diversity, equity, and inclusion in our professional field. To develop this survey, we contracted with Cream City Conservation and Consulting and administered the survey through Culture Amp, a survey platform specifically made to evaluate organizational culture. We sent this survey to ANCA members and paid staff at ANCA member organizations, and we asked directors and managers at these organizations to share the survey with all other paid staff within the organization. Our goal was to identify any disparities in experiences of nature and environmental learning center employees based on social identities.
As leaders, we need to understand if decisions are fair, voices are heard, and if our staff see opportunities for themselves in the future. The results of this survey shed light on areas that need our attention, as well as areas of current strengths. Directors and managers within our profession can use this data to inform their own organizations; the data is also guiding ANCA's next steps in providing support and training to our members.
This overview shares the initial results of the ANCA Culture Survey. We will periodically release more in-depth analyses of these results and share recommendations for how nature centers as a profession may work toward a more equitable and inclusive field.
DEMOGRAPHICS
Age
ANCA is committed to supporting leaders at all stages of their leadership journey, so we hoped this survey would help us understand the range and ratios of ages represented in our membership.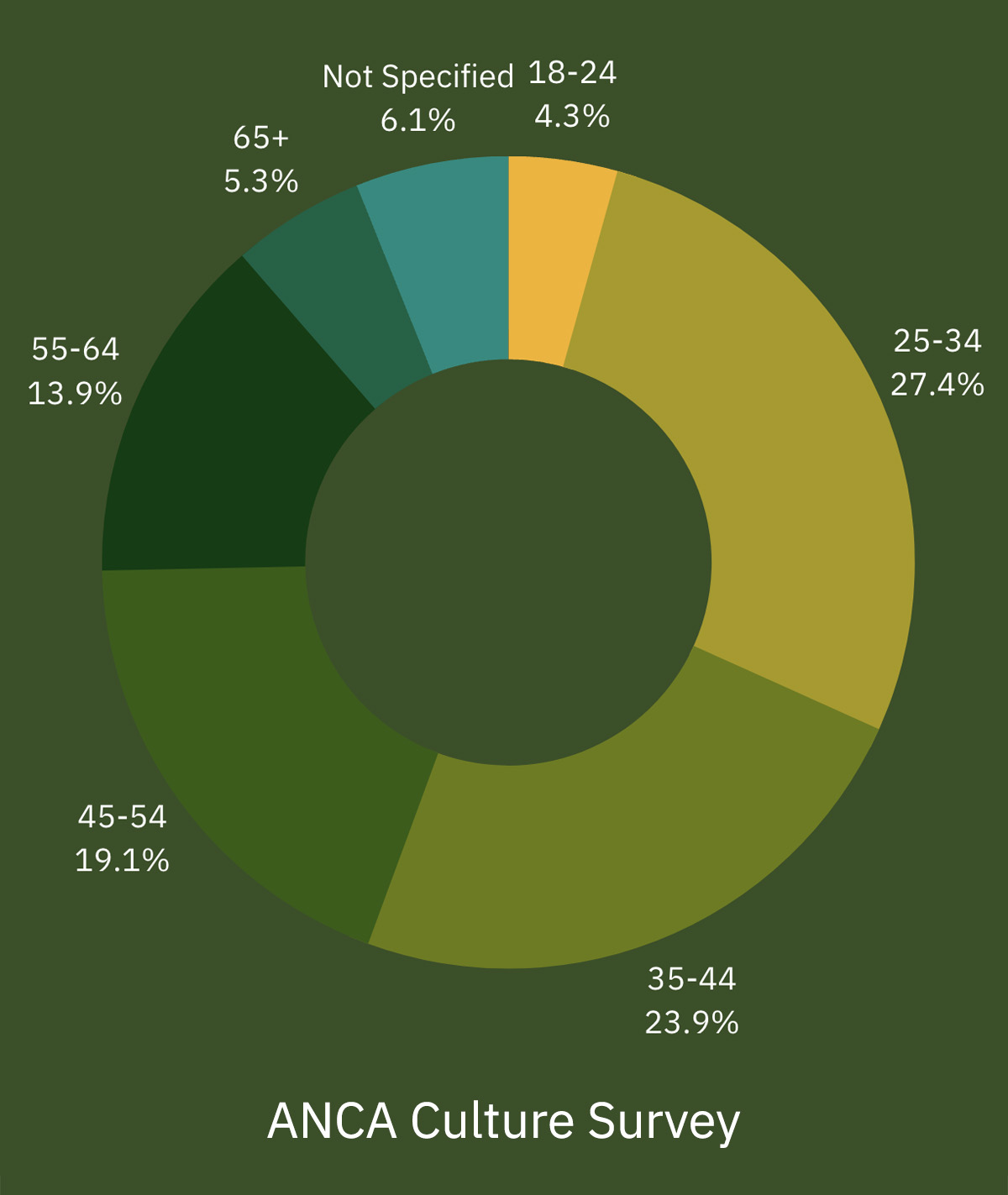 Overall, the survey showed fairly strong age diversity in our membership. That said, approximately 38% of staff in our survey will reach retirement age in the next 20 years, which means nurturing our young leaders is more important than ever!
Disability
We know that nature has immense benefits for people of all abilities. The nature center field has struggled with providing equitable access to folks of all abilities, so ANCA hoped that this survey could help us understand how well people with disabilities were represented in our membership.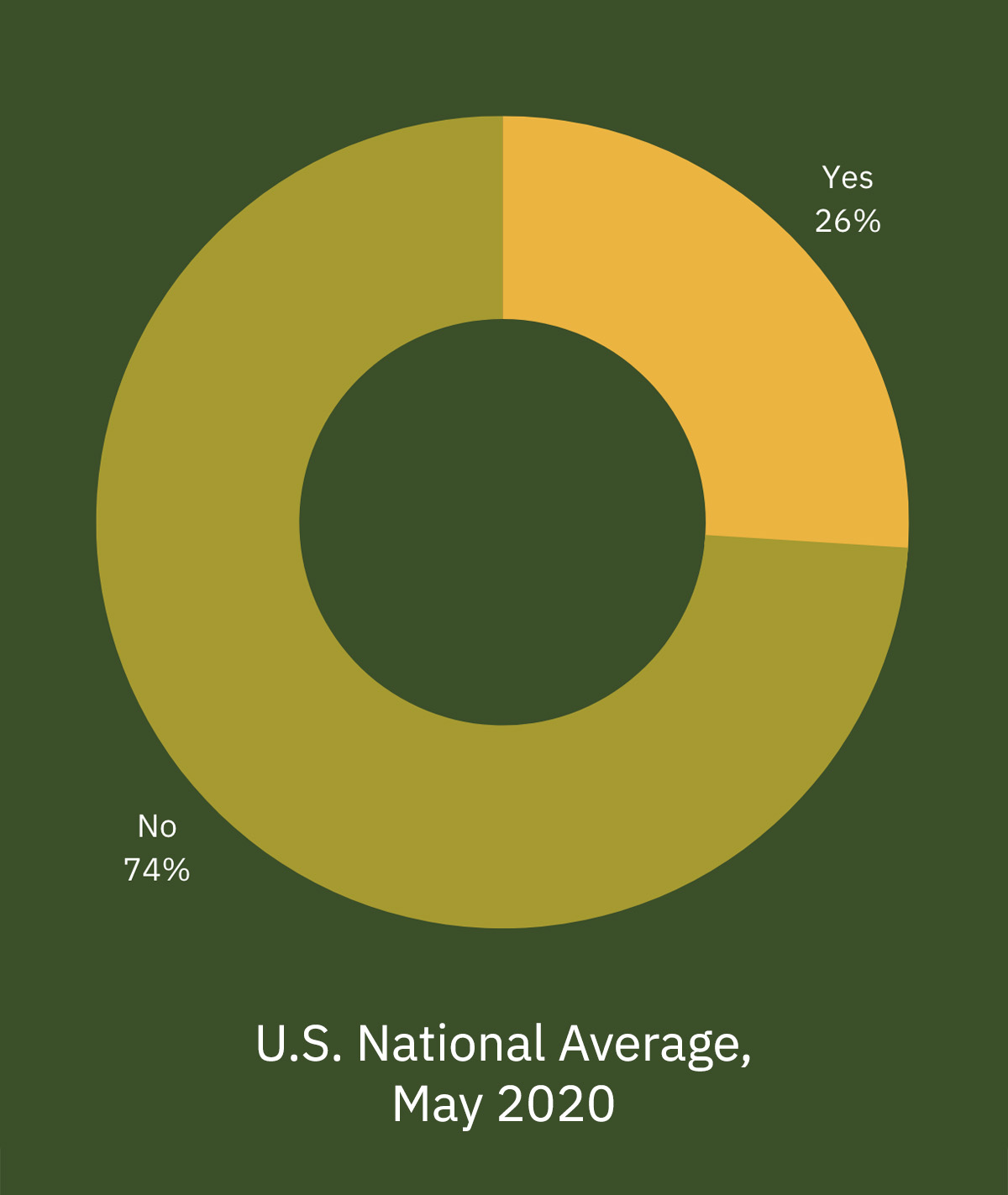 ANCA trends slightly behind the national population in terms of representation of people with disabilities, but not by much. These numbers are an important reminder that our efforts toward accessibility are important not just for the communities we serve but for our membership as well.
Gender Identity
In addition to longstanding questions about the gender gap between men and women in terms of leadership roles and pay equity, gender identity in a broader sense has become an increasingly divisive issue in our country. ANCA wanted to understand how our community identifies, and what leadership looks like in terms of gender across our network.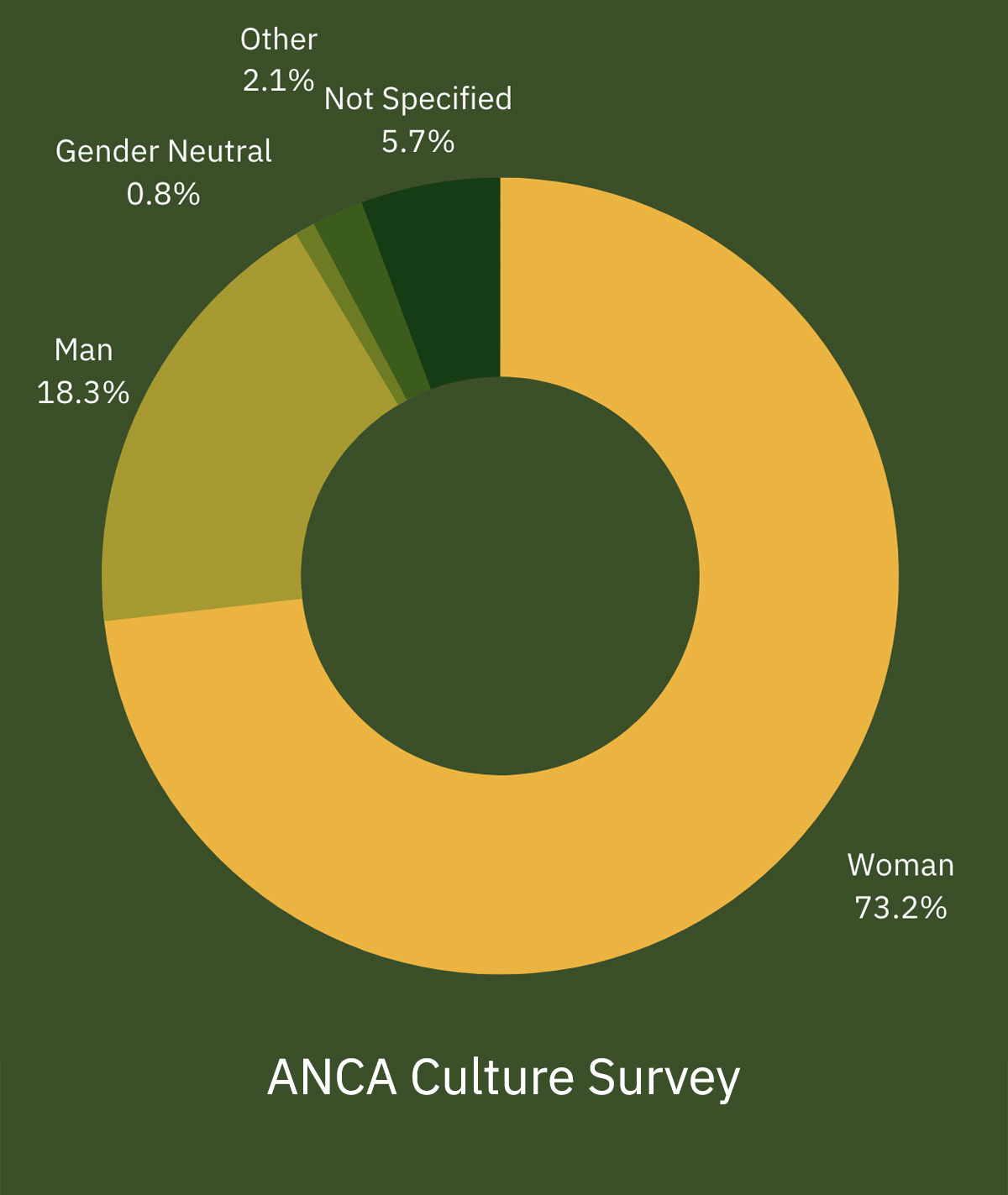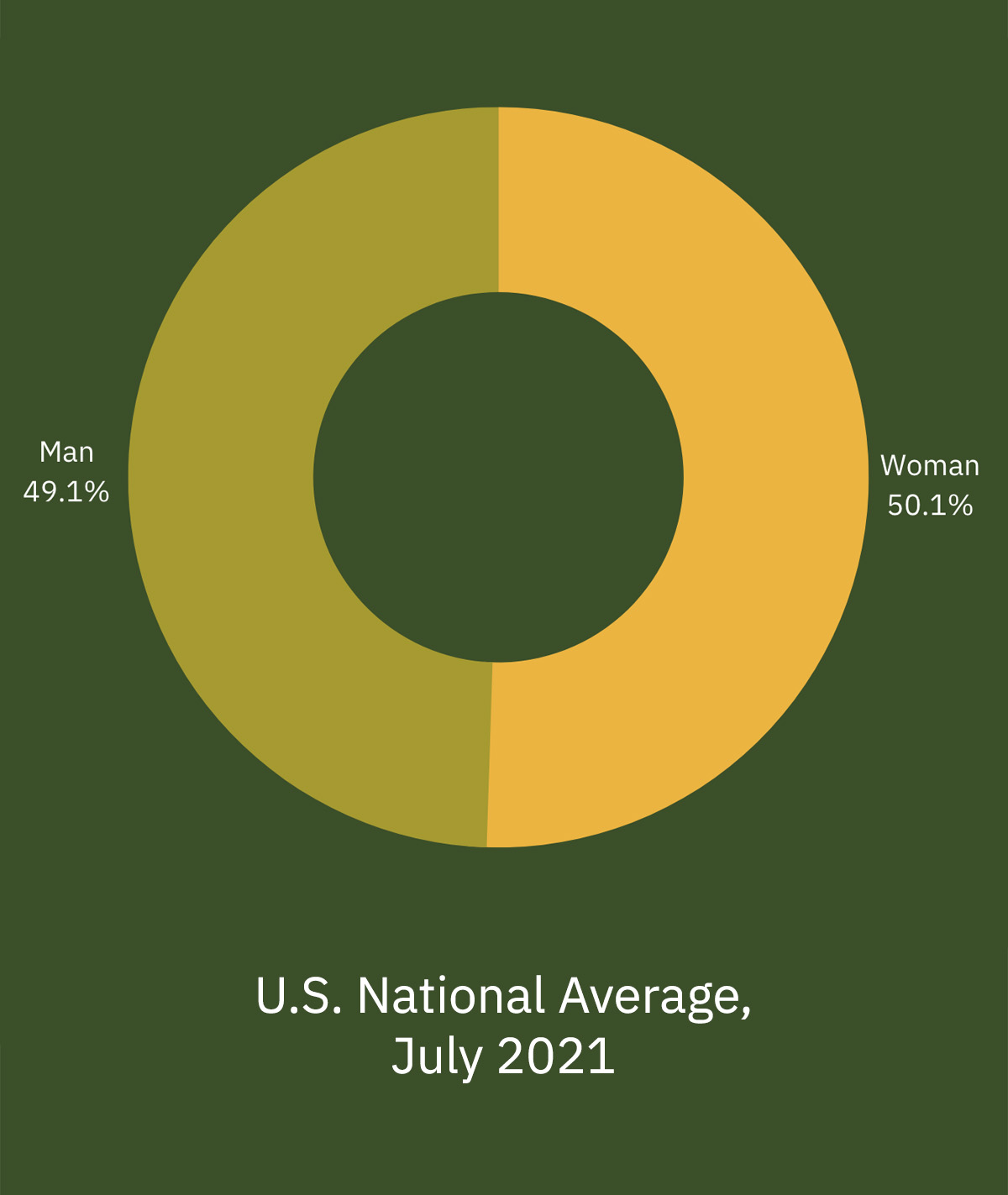 It likely comes as no surprise that women make up nearly three quarters of the ANCA community. And this is not unique to the nature center field. According to American Association of University Women (AAUW): "Women make up 75% of workers in the sectors that encompass most nonprofits." However, leadership tends to lag behind the overall workforce, and even at the highest level, pay gaps between men and women are pervasive. Again, from AAUW: "Female CEOs at organizations with an annual budget of less than $1 million experience median pay gaps of between 6 percent and 13 percent relative to male CEOs. At larger nonprofits, where men outnumber women, the gap is larger: female CEOs face a median 18 percent pay gap at the nonprofits with the largest budgets." So, it is worth noting that representation does not always lead to equity, and there is likely more work to do for us in terms of gender equity!
The survey's results also clearly reflect the shifting cultural reality related to gender identity. According to Heath Davis Fogg, author of Beyond Trans: Does Gender Matter?, "Among Gen Z, 59% believe that forms should offer more options than "man" and "woman," 35% report personally knowing someone who uses gender neutral pronouns, and one in six identify as members of the LGBTQ+ community. This generation is growing up with "intersectionality" and "queerness" in their vocabularies." At the same time, we have also seen (both nationally and specifically in our nature center community) a harsh backlash toward gender-inclusive language and practices. This issue may be one of the toughest and most important ones facing the ANCA community in the coming years.
5%
of survey respondents are transgender
Race/Ethnicity
In ANCA's Core Values, we state that the collective wisdom and diversity of our peer network is our greatest resource. While there are many dimensions of diversity, we knew that racial and ethnic diversity in our network was an area where we were lacking as an organization, and we also knew it was an area of critical importance. This culture survey helped shine a light on the gaps and our opportunities for growth.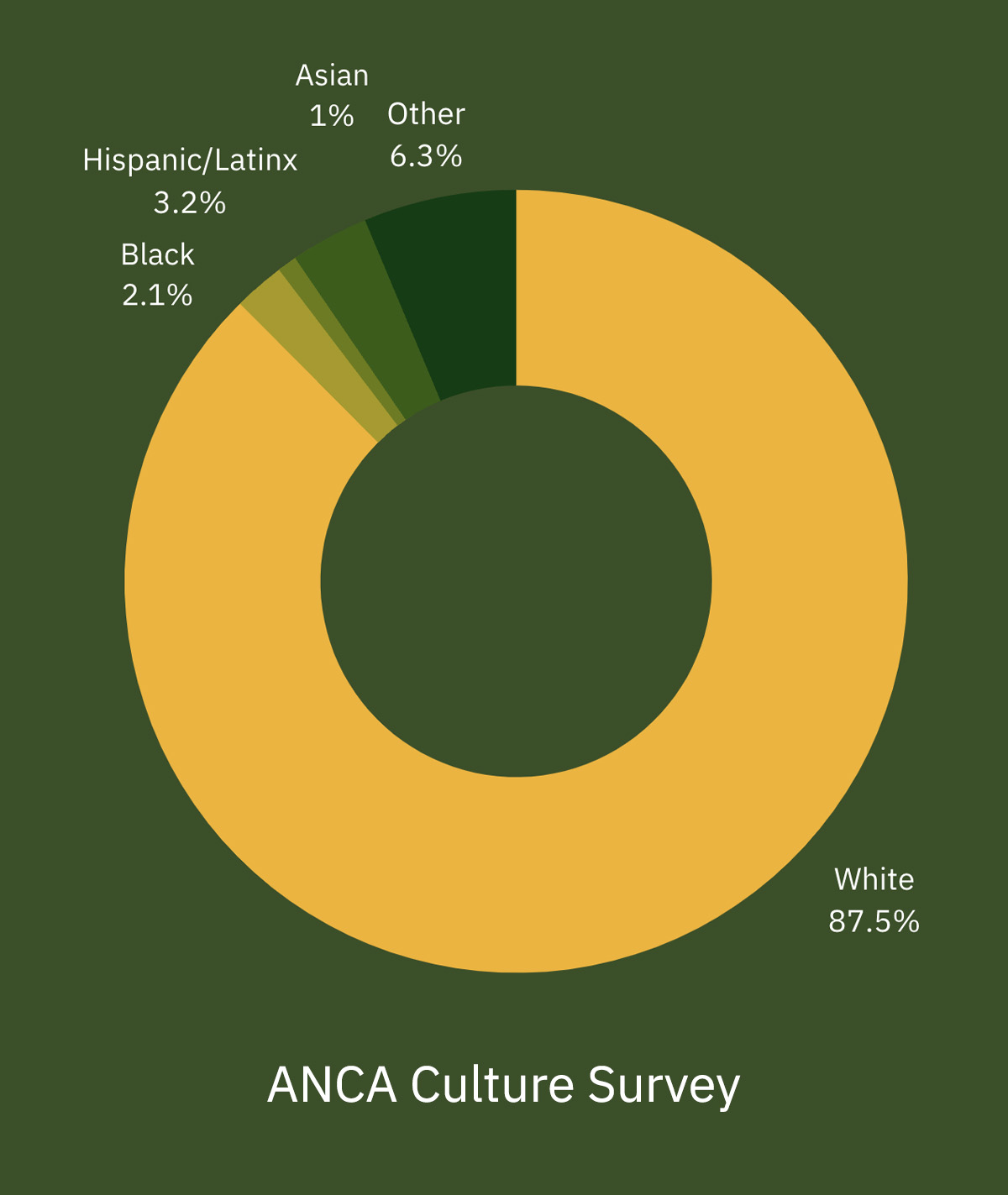 ANCA's racial diversity lags significantly behind our nation's makeup with White staff being significantly overrepresented, and BIPOC staff being significantly underrepresented. As the U.S. demographics shift toward a majority BIPOC population by 2045, it is absolutely critical that nature centers, and ANCA, shift as well. In order to appropriately engage, represent, and serve our communities, our leadership needs to more closely mirror those communities.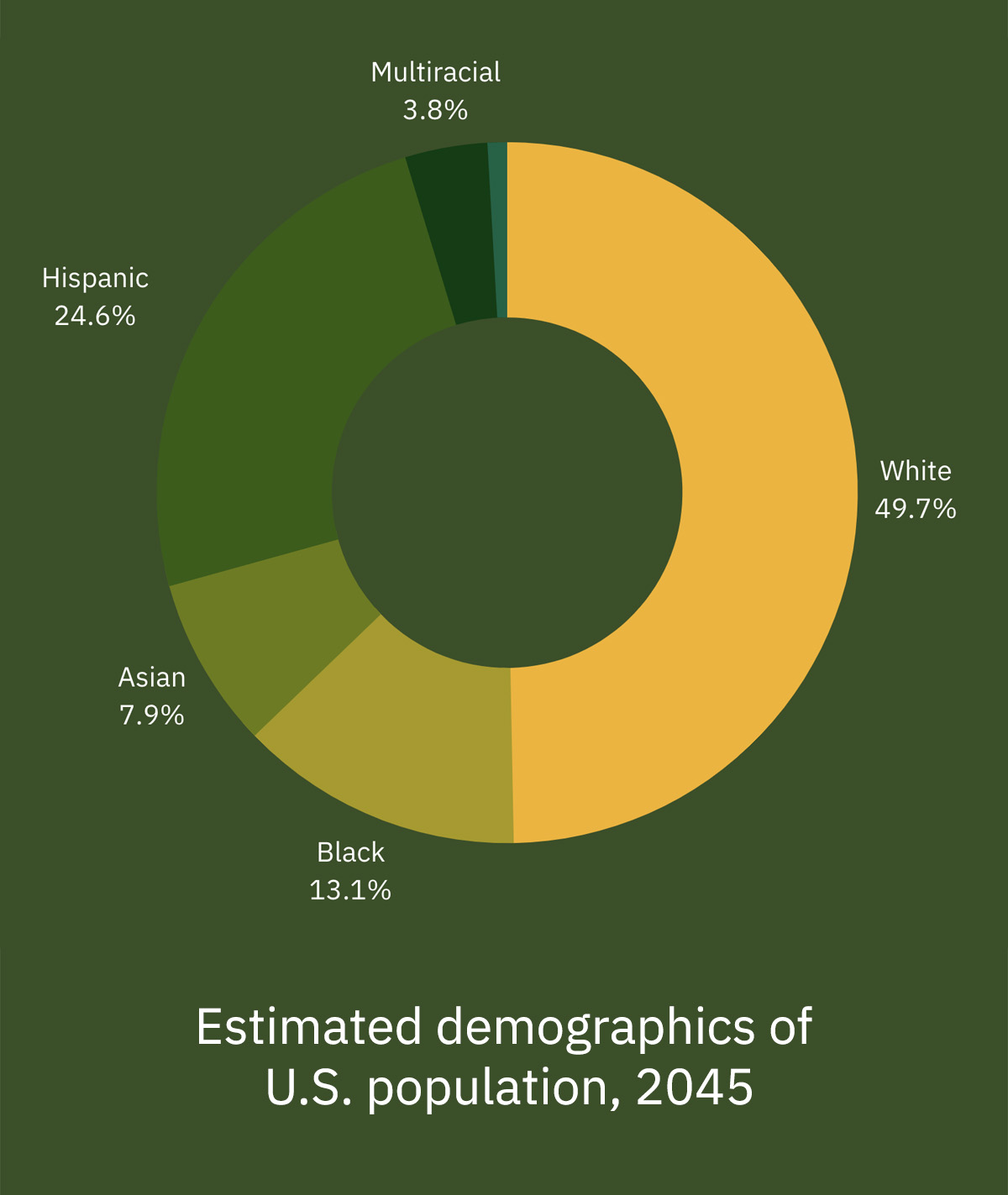 The ANCA Culture Survey and the U.S. National Average includes persons reporting more than one race. Estimated 2045 demographics are based on William H. Frey's analysis of US Census population estimates.
Sexual Orientation
Another dimension of diversity that is important to ANCA is sexual orientation. We want our network and our centers to be welcoming to folks who are part of the LGBTQ community and we hoped this survey would give us a clearer picture of how our members identify.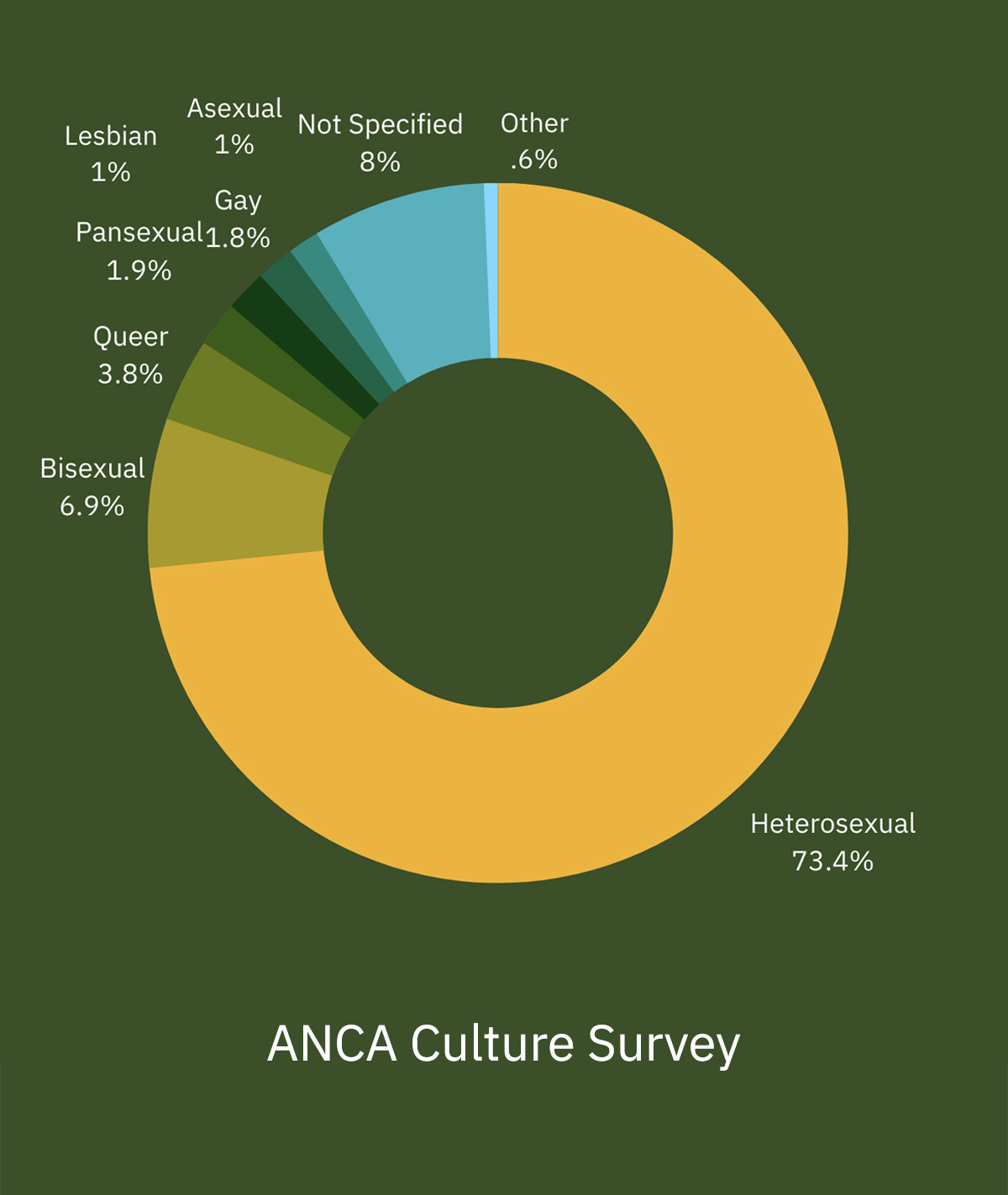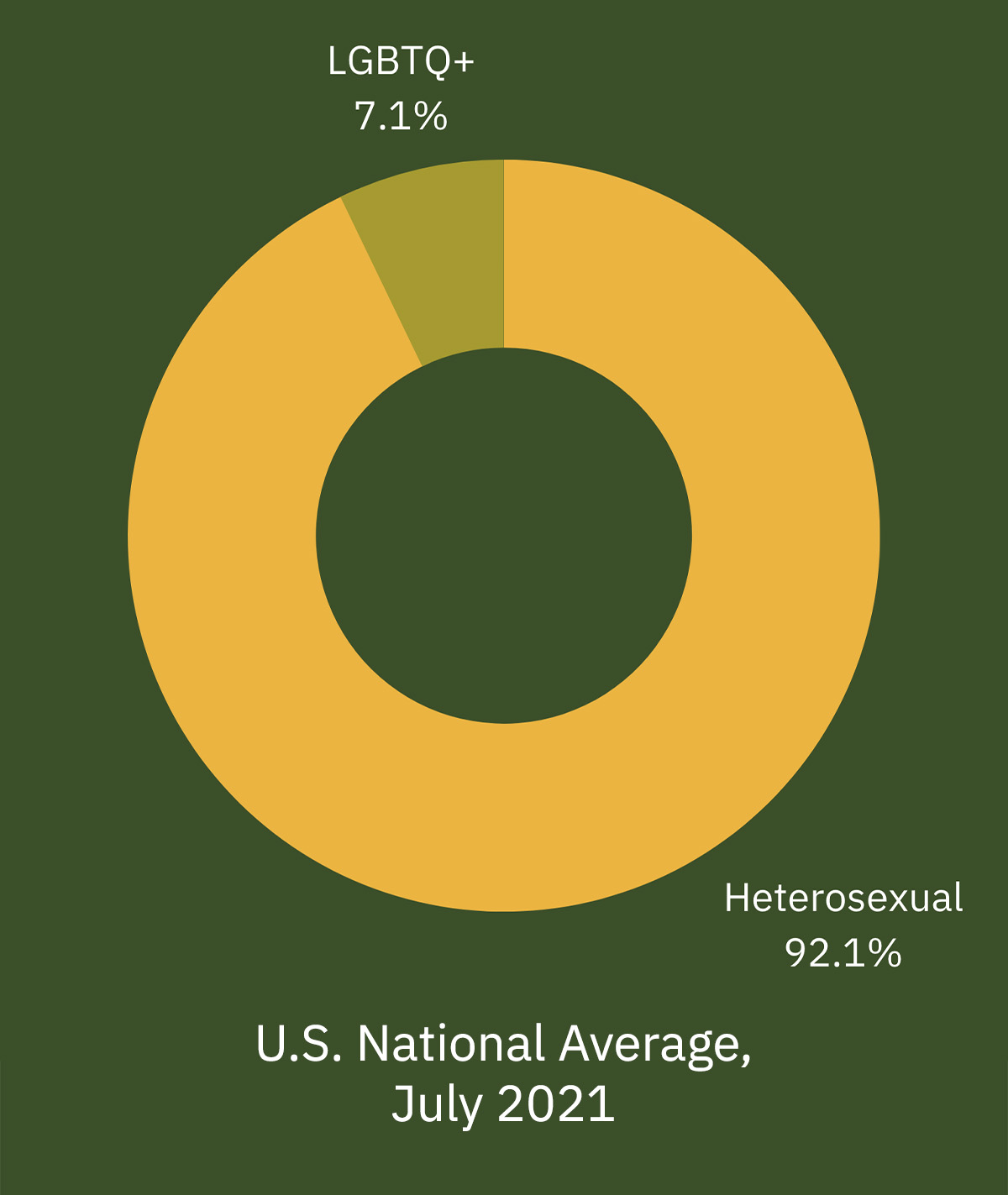 As you can see, the ANCA network trends above the U.S. national average in terms of representation of the LGBTQ+ community. While we hope this means that LGBTQ+ folks feel a sense of belonging in the field, we know that these numbers don't tell the whole story. As noted above in the "gender" section, we know many folks who identify as transgender, nonbinary, and genderqueer have encountered discrimination in their communities and workplaces. We know we have work to do to make ANCA and our member centers safe and welcoming spaces for people of all gender identities and sexual orientations.
16.4%
of survey respondents are part of the LGBTQ+ community
WORKPLACE SATISFACTION & PERCEPTION
The Culture Survey went beyond demographic information, also including questions about how participants perceive their organization as a workplace. These questions pertained to fairness, decision-making, professional opportunities, belonging, diversity, and equity.
Areas of Success
92%
of respondents felt that their work contributes to a broader purpose
82%
of respondents reported a feeling of belonging with their organization
75%
of respondents feel that they are part of the decision-making processes at their organization
Areas of Opportunity
Diversity
As the demographic information showed, the nature center field is predominantly White and homogenous in other respects. Respondents' perception about this lack of diversity correlates to the data we collected — only 41% of respondents feel positive about diversity at their organization; 28% feel that diversity is actively lacking at their organization.
Fairness
19% of respondents consider their organization to have unfair practices, with 20% of all respondents holding neutral feelings about fairness at their organization.
Workplace Satisfaction
Our data show that staff members in marginalized groups have lower workplace satisfaction scores than their counterparts:
BIPOC Staff
Black, Indigenous, and People of Color (BIPOC) staff reported lower workplace satisfaction than White staff, with significantly lower scores for workplace equity, belonging, professional opportunities, and engagement.
LGBTQ+ Staff
LGBTQ+ staff reported lower workplace satisfaction than non-LGBTQ+ staff in nearly all factors within their organization.
Staff with Disabilities
Staff with disabilities reported lower workplace satisfaction than abled staff in nearly all factors within their organization.
CONCLUSION
ANCA is a network involving hundreds of organizations throughout North America, and collectively this network makes nature and outdoor education possible for millions of people. Our data here, however, show clearly that nature center staff throughout the industry do not reflect the demographics of our communities. Further, when staff are BIPOC, LGBTQ+, or disabled, they do not feel as welcome or heard within their organization as their counterparts.
As a profession, we must actively promote equity and inclusion within our organizations. Our workplaces are now disproportionately homogeneous particularly regarding race and ethnicity, and that homogeneity hinders our ability to connect people with nature. If we wish to truly achieve our organizational missions, we need to examine how we are not reaching major populations within our communities, and purposefully address those gaps. The survival of our industry and the well-being of our natural areas depend on it.