The Association of Nature Center Administrators (ANCA) is pleased to announce Drew Dumsch as recipient of the 2021 ANCA Nature Center Leadership Award. Dumsch has proven himself a remarkable leader within the nature and environmental learning center field, most notably through his work at The Ecology School in Saco, Maine.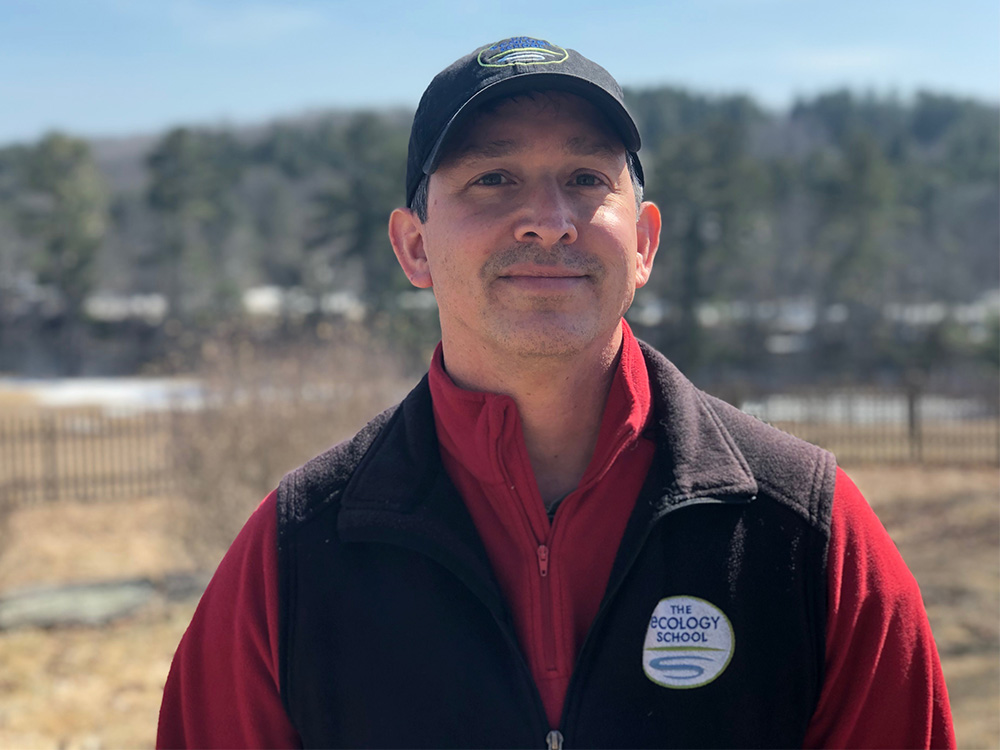 Drew Dumsch is the Co-Founder, President and CEO of The Ecology School.Dumsch co-founded The Ecology School in 1998, having worked previously as a naturalist and educator. In his ongoing role as President & CEO, he has guided the organization from humble beginnings to its current status as a pioneer in sustainability that provides residential, day, and outreach programs for thousands of participants per year. Notably, Dumsch has recently led efforts to develop a new campus that features two buildings working towards the Living Building Challenge, an exceptionally rigorous sustainability certification for buildings; The Ecology School is also the first entity in the US to submit a master plan for the broader Living Community Challenge certification. These are significant accomplishments that exemplify Dumsch's leadership skills and drive to achieve the organization's vision.
Though Dumsch's responsibilities involve high-level strategic planning, organizational oversight, and project management, he has clearly maintained a grounded approach to engaging with The Ecology School staff, and he still makes time to connect with seasonal education staff. Through Dumsch's emphasis on internal and external organizational relationships, The Ecology School has developed a community based on meaningful connections.
In addition to his work at The Ecology School, Dumsch has also been active in ANCA, the Maine Environmental Education Association, the New England Environmental Education Alliance, and the North American Association of Environmental Education.
ANCA will recognize Dumsch with this award as part of the Leader Award Ceremony on August 25th at the 2021 ANCA Summit.
"Drew Dumsch co-founded The Ecology School over 20 years ago and emerged as a champion for the entire profession through creative visioning of a healthy, sustainable, and thriving field. His leadership inspired his team and residential centers to remain positive and find solutions to complex problems brought about by the pandemic. A thoughtful, innovative, and collaborative leader, Drew is very deserving of the ANCA Nature Center Leadership Award!"

— Kitty Pochman, Chair of the ANCA Awards Committee and Executive Director of the Linda Loring Nature Foundation
"I am thrilled to see Drew receive this recognition. He has made a significant impact on his community as well as the greater community of residential environmental learning centers throughout North America. He is a tremendous leader who has dedicated his life to advancing environmental education and sustainable communities, and to supporting his colleagues regionally and nationally. I am most impressed with his ability to keep looking ahead with enthusiasm despite the obstacles we have all faced this past year."

— Jen Levy, ANCA Executive Director
About the Award
The ANCA Nature Center Leadership Award recognizes an individual who in their role at the highest administrative level of an organization has made a major contribution to the success of a nature center, as well as important contributions to the profession through professional organizations and the support of other nature center leaders. ANCA has presented this award to one individual each year since 2000.
About ANCA
The Association of Nature Center Administrators (ANCA) promotes and supports best leadership and management practices for the nature and environmental learning center profession. It is the only such organization in North America and supports over 700 dues-paying members that include nature center directors, managers, senior administrators, and board members.