by Asa Duffee, ANCA Director of Marketing & Communications

In 2016, Reflection Riding Arboretum & Nature Center in Chattanooga, Tenn. faced major challenges. In the years prior, the organization's revenue had dropped by nearly half, visitation was significantly down, and the Board of Trustees shrank in size. Adding to the difficulties, the nonprofit was still in the midst of a challenging merger of two separate organizations, after that process began in 2011. Though of course some stakeholders were working hard to sustain the nature center, the organizational trends were discouraging.
The trajectory clearly changed in 2017, with increases in visitation, engagement, and revenue that have continued since then. In 2020, Reflection Riding brought in roughly five times its revenue in 2016, part of an impressive rise in earned revenue, donations, memberships, and grants. New, dynamic leaders joined the Board and staff, which are both engaged and collaborative. The organization officially completed its merger at the end of 2018.
As an inherently collaborative institution, a nature center's success can never be attributed to one person alone — but anyone in the ANCA community also knows that strong leadership is essential to organizational success. In Reflection Riding's situation, Mark McKnight was the leader who transformed the organization.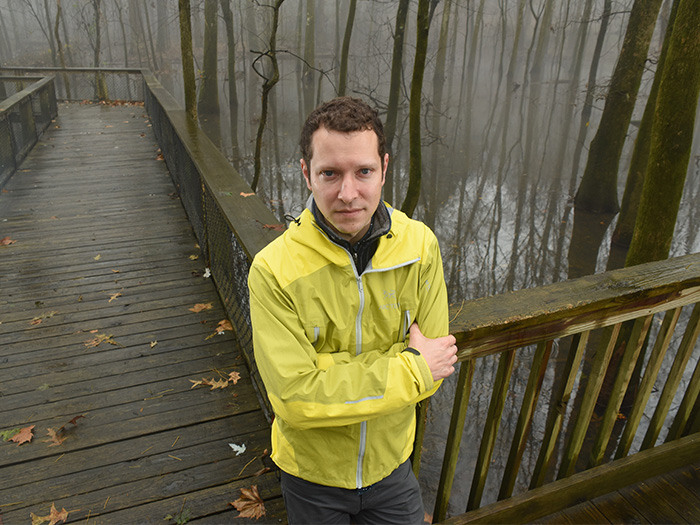 Mark McKnight, President/CEO of Reflection Riding Arboretum & Nature Center. Photo by Tim Barber, courtesy of the Chattanooga Times Free Press.McKnight joined Reflection Riding as President/CEO in 2017 and has since led the center to thrive. His leadership has not only stabilized the institution from its tumultuous years, but he has also worked to develop a new vision of the organization's growth, as seen in its recent A Framework for the Future plan.
For his remarkable work at Reflection Riding, ANCA recognized McKnight with the ANCA Outstanding New Leader Award at the 2021 ANCA Leadership Award Ceremony on August 25th. This award acknowledges McKnight's achievements within the nature and environmental learning center field in organizational leadership, professionalism, professional development, and creativity. ANCA Awards are peer-nominated, and the Reflection Riding staff and community nominated McKnight for this recognition.
Bringing an entrepreneurial mindset to the table
McKnight's success at Reflection Riding is also significant given his professional history. Prior to his current role, McKnight gained over fifteen years of experience in the outdoor recreation industry, having served as Marketing Director for outfitting company Rock/Creek and co-founder of RootsRated, a media startup that connects its audience with outdoor experiences.
Santosh Sankar, Chair of Reflection Riding's Board of Trustees, introduced McKnight at the Leadership Award Ceremony, and said that McKnight's entrepreneurial background is evident in his leadership.
"You can see that in the style of how he is able to lead the teams, articulate his vision, set goals, but also manage all the different stakeholders in order to realize a grand vision," Sankar said.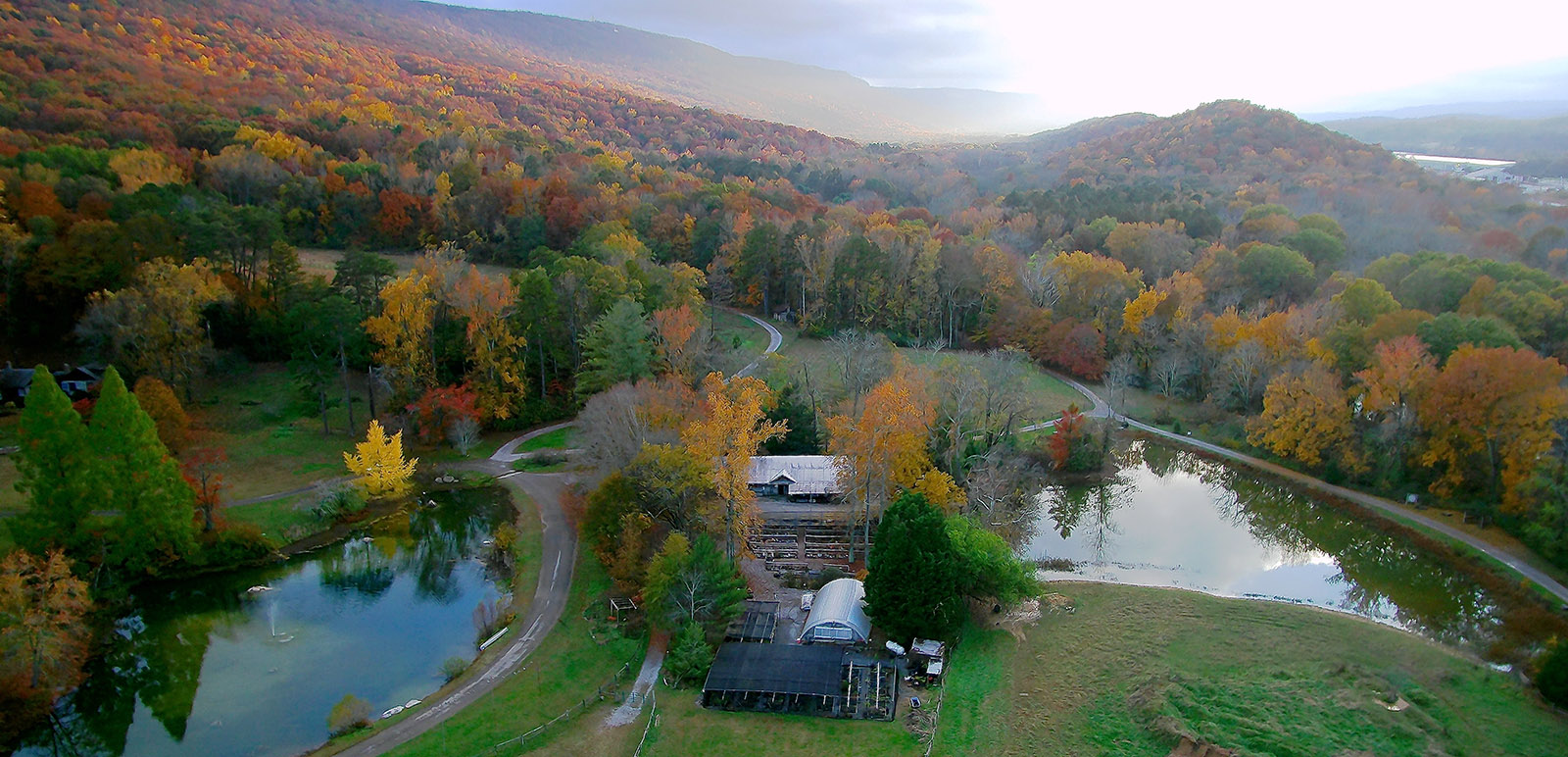 Fall scenery at Reflection Riding Arboretum & Nature Center.
Reflection Riding staff members agree that McKnight's business experience has helped invigorate the organization's new direction. Writing in McKnight's award nomination were Heather DeGaetano, Managing Director and General Counsel; Tish Gailmard, Director of Wildlife Conservation; Corey Hagen, Director of Education.
"Mark doesn't shrink from a challenge; he plans, works hard, builds the team he needs, and then gets things done," the three staff wrote. "He brings an entrepreneurial mindset to everything he does. And the entire southeast Tennessee region benefits from his leadership."
DeGaetano, Gailmard, and Hagen also listed McKnight's major accomplishments since he joined in 2017 [this list has been edited for conciseness].
A valued, enthusiastic team of leaders: a reconstituted, engaged, collaborative board of directors, a committed group of advisors and an enthusiastic leadership staff team.
Strong, durable partnerships with organizations, businesses, government and funders from across the region.
A completed successful merger of the Chattanooga Nature Center and Reflection Riding Arboretum after years of past inaction.
A completed strategic planning process with a five-year plan in place, that is now more than half completed.
A comprehensive master planning process — complete with broad community input, even during a pandemic.
A conservation easement transaction to permanently and legally preserve all 300 acres of our property, through a partnership with the National Park Service and the American Battlefield Trust.
Dr. Christian Keller has provided veterinary services for Reflection Riding for more than three decades, and also praises McKnight's contributions.
"Mark is also an enthusiastic change-agent and he has quickly and thoughtfully elevated this organization and its future as a regional hub for environmental learning and outdoor access. His focus on building a bold future for our work has been inspiring to watch, especially as we worked through first a thoughtful strategic planning process and, then, an innovative master planning process," Keller says. "After 30 years working with this organization, I have never felt better about our trajectory. Mark is largely responsible for this."
Contributions beyond one organization
McKnight's commitment to the nature center and environmental fields goes beyond his work at Reflection Riding. Since joining ANCA in 2017, he has contributed to the nature center community by participating and facilitating at ANCA Summits, serving on the ANCA Marketing Committee, and sharing organizational processes in the Directions journal. He also serves on the boards of Lula Lake Land Trust, Chattanooga Design Studio, and Chattanooga Lion's Club.
McKnight is the eighth recipient of the Outstanding New Leader Award. The award began in 2014 to recognize individuals with the potential for future impact within the field of nature center administrators. Award recipients demonstrate leadership, professionalism, professional development, and creativity within the field of nature and environmental learning centers, while holding less than five years of experience as the director, executive director, or leader at the highest administrative level at an organization.
—
This article was originally published in the Fall 2021 issue of Directions, the ANCA journal. Members can always access the full issue via the member portal.
Want more stories like this? Scroll down to sign up for our mailing list.