ANCA Annual Summit:
Aug 21-25 at The Ecology School in Saco, Maine
The Ecology School is an environmental learning center that inspires stewardship of and connection to the natural world through nature-based, living lessons focused on ecology, conservation, farming, and sustainability. The organization began in 1998 as a small overnight program for students on the coast of Maine, and has since expanded to reach groups and individuals of all ages. The 2021 opening of the school's groundbreaking southern Maine campus — the first of its kind nationally and globally — enables immersive programs where guests can live, laugh, and study in a unique ecosystem, as well as community events designed to amplify the efforts of like-minded partners working in ecology, sustainability, and food access. Today, this respected Maine institution offers both a radically sustainable built environment and a protected natural setting for inspired learning at all ages.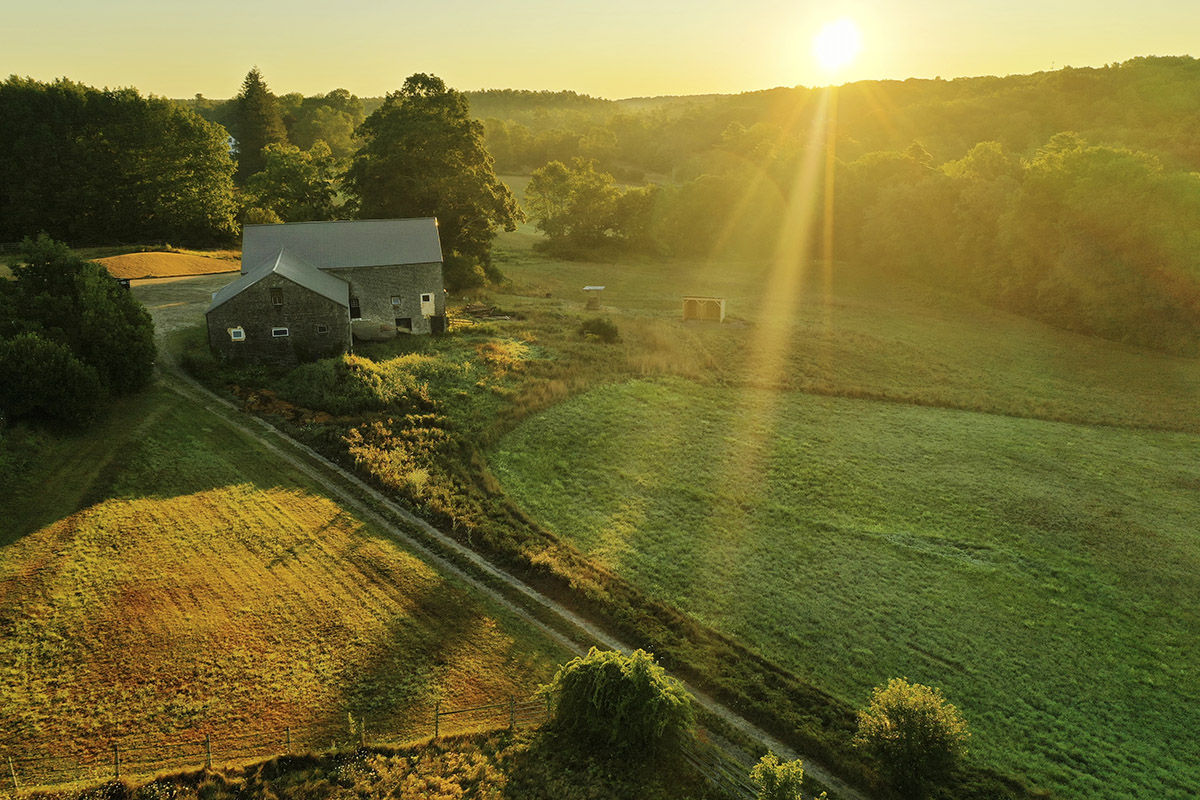 The sun rises over the barn at River Bend Farm, the historic farm from which The Ecology School operates. The barn dates back to the 1860s.
River Bend Farm
River Bend Farm is a historic 105-acre farm located on a scenic bend in the Saco River, just twenty minutes from the Maine coast. It is a place designed to bring people and nature together. The site provides "live what you learn" opportunities for guests through hands-on exploration of Maine's ecosystems, sustainable living practices, direct connection to food systems and farming along with modeling conservation-in-action.
The farm is a place where people of all ages find comfortable accommodations, delicious food, and beautiful outdoor spaces to explore. Its campus includes:
3.5 miles of trails
144-bed Dormitory nestled along the edge of a forest
7,000 square-foot Poland Spring Education & Dining Commons overlooking the Saco River
Recreational L.L.Bean Waterfront
712 solar panels supply 105% of the site's energy needs
Agroecology farm
Dormitory and Dining Commons built to the specifications of the Living Building Challenge
See more about the campus from River Bend Farm's opening in April 2021:
Sustainability
Living Building Challenge
The campus at River Bend Farm features two buildings that are designed to meet the Living Building Challenge, considered to be the highest certification for sustainable construction — the organization behind it, the International Future Living Institute (IFLI), claims that it is "the world's most rigorous proven performance standard for buildings." The Poland Springs Education and Dining Commons is one of these buildings and features a 7,000 square foot space that can host up to 200 guests for meals, meetings, or other activities; a highly efficient kitchen designed with no combustion, utilizing advanced electrical induction cooking equipment; and 200 solar panels on the roof. The second building is the 9,000 sq-ft dormitory that includes 144 beds, an air circulation system that circulates fresh air six times per hour, and low-flow toilets, faucets, and showers that save an extra 240,000 gallons of water each year over conventional systems.
Living Community Challenge
The Ecology School is also the first organization in the world to submit a master plan for the Living Community Challenge, an IFLI standard that promotes "a symbiotic relationship between people and all aspects of the built environment." As such the entire campus will be net positive for both water and energy, and will feature regenerative spaces for people and natural ecosystems.
Programs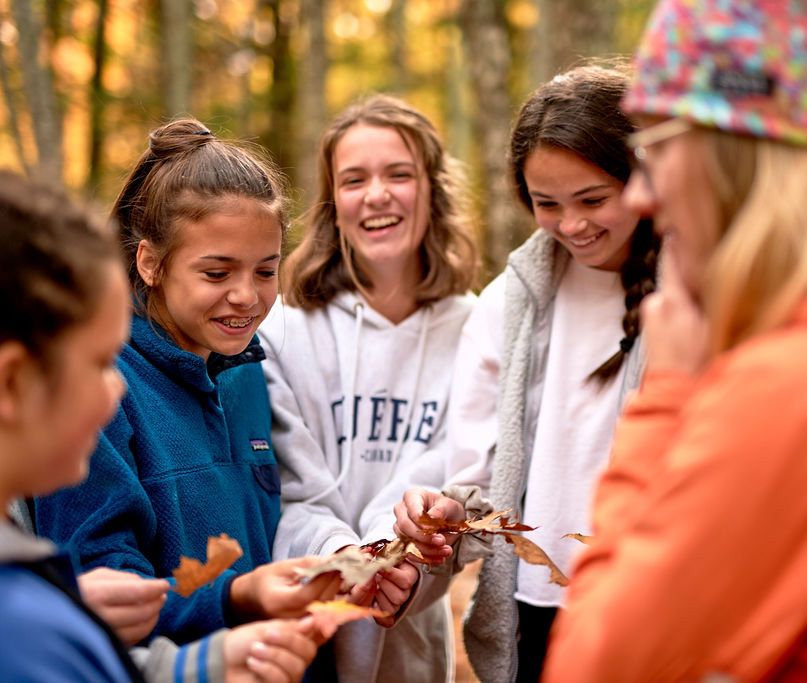 A fall program with The Ecology School. Photo by Lone Spruce Creative, provided by The Ecology School.The Ecology School hosts a wide variety of programs, including camps, retreats, and overnight, day, and outreach programs for schools.
Programs are designed to increase science literacy for all ages and provide memorable lessons about how the world works and our place within it. Living at the beautiful River Bend Farm for a few days or a week is a one-of-a-kind experience that inspires new ways of looking at food, farming, nature, communities, and technology. Participants reside in The Ecology School's dormitory, participate in growing and harvesting food in permaculture gardens, take meals together in the Poland Spring Education and Dining Commons, and explore Southern Maine ecosystems on and around the campus, including river, forest, fields, marsh, and tidal zones.
Overnight School Programs
School groups stay at the campus and experience three ecosystem-based lessons a day, exploring food systems, the forests, fresh water sources, and other natural areas nearby.
Overnight school programs provide a unique, fully immersive experience for entire grade levels. With a student to educator ratio of 10:1, groups of up to 120 students participate in six or more hours of outdoor, unplugged E-STEM (Environmental-Science, Technology, Engineering, Math) lessons daily, learning new concepts about how the world works, and following their curiosities. Over the course of their stay, students draw connections between ecosystems, notice patterns in the world around them and witness natural processes such as cycles, change and disturbance at work in different ecosystems.
Camps
Campers get to experience the living and learning in and from the state-of-the-art green buildings at River Bend Farm, and how their actions make a difference. Games, activities, and exploration time help children make connections between these ecosystems, their actions, and the health of our overall planet. Throughout the day campers may choose between arts and crafts, time on the river, kitchen activities, and more.