by Kendra Penry, Executive Director
Stokes Nature Center — Logan, UT
Note: this is part of a series on how ANCA members are responding to the COVID-19 crisis.
Like many nature centers, the Allen and Alice Stokes Nature Center had a full slate of programs and events planned for the spring and summer of 2020. COVID-19 changed everything. We operate a preschool that had to close and all in-person programming was cancelled or postponed. We quickly realized that this did not mean our community did not need us, we just could not operate normally.
Within the span of an afternoon, we decided to take as much online as possible through our free Stay Home with Stokes initiative. It started with a simple idea: our naturalist educator for communities leads a weekly children's story time and activity, so what if she did that as a livestream? That was a great idea, but we knew we could go bigger. We created a three-day-a-week challenge to get people outdoors, active, and engaged with nature when they need it most. Monday features an iNaturalist challenge to find creatures or plants that go with the week's theme, Wednesday is an activity that can be done with the items you already have in your home, and Friday is story time and a weekend outdoor suggested activity for the whole family. Week one saw over 1,000 people participate and it is still going strong.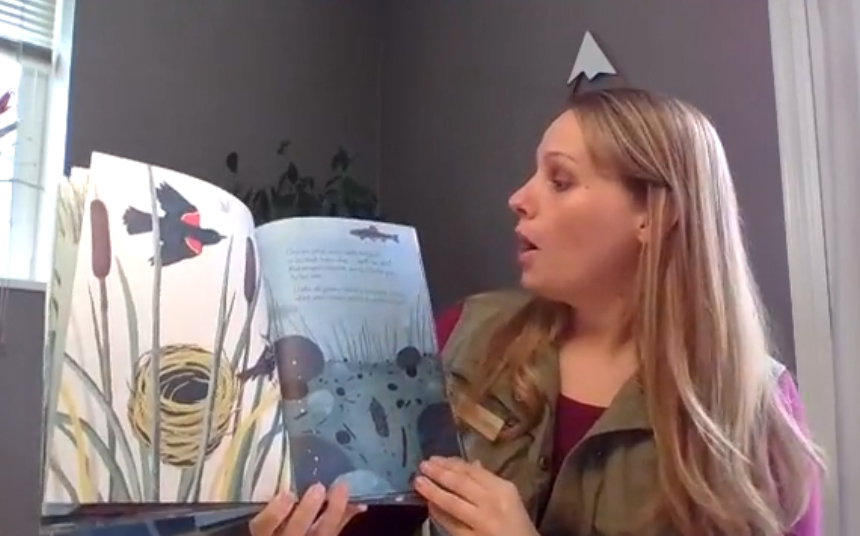 Stokes Nature Center's Naturalist Educator reads a Nature Tale over Facebook Live.The most popular was, by far, the story time. Many generous publishers are waiving all copyrights in light of the crisis, so we are able to use their books to read the story aloud, the same as if the children were in the room, and then lead a craft based on the story. Normally, these would take place at our nature center or the library but creativity was needed, so our educator reads from her home, livestreams to our social media, and we keep the video up for a week for more people to use whenever they need it.
We have initially created eight weeks of themes, but we will keep going as long as our community needs us through this crisis. The benefit is that now we have these resources to use whenever they are needed. This will not be the last time we have to be creative to reach our audience so building a library of materials and ideas now will be useful for the future. No, this is not generating revenue, but our priority for this is engagement and keeping our community active and outdoors in a safe way during a stressful time so that we remain relevant.
Find more information at logannature.org, including where we post the entire week's activities so that parents and families can use them at any time.
———
Want more stories like this? Join the ANCA mailing list: