by Mark McKnight, President/CEO
Reflection Riding Arboretum & Nature Center — Chattanooga, TN
Note: this is part of a series on how ANCA members are responding to the COVID-19 crisis.
As leaders, our jobs have never been simple. Even the most detailed budgets and plans informed and vetted by expert board members and advisors can end up far off the mark. But what the heck do you do during a time like this?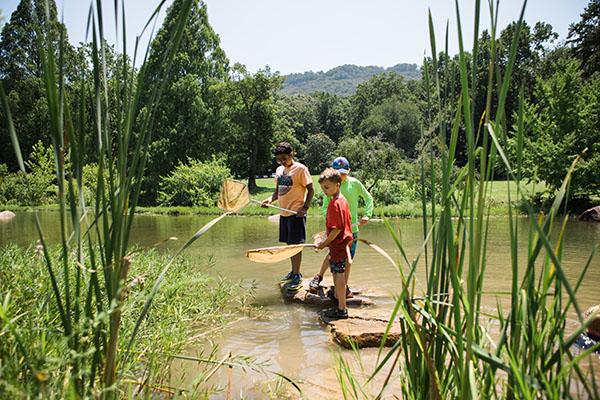 Summer camp at Reflection Riding in 2019. Photo by Joseph Schlabs.Originally, I was going to write for ANCA about our success in growing summer camps. After doubling our revenue and attendance year-over-year from 2018 to 2019, we were poised for even better results in 2020 and were looking forward to what that would mean for hiring and continuing to grow Reflection Riding Arboretum & Nature Center, an organization that had been through a few tough decades. Any 65-year-old organization will go through a rough patch here and there, and our staff had rallied around our dramatic transformation over the prior years. Everything was moving in the right direction. Donations and membership, program attendance, board involvement were always up, up up! Salaries were catching up with expectations, we had received our first major grant in a decade, and things were going great.
And then…
First, there were mentions of this new virus among our investment committee. As the virus quickly spiraled into a pandemic in Asia, Europe started seeing issues, and then there was a cruise ship where the virus had run rampant.
New York became a hotspot. We had our first local case soon after. School field trips canceled. The following week, all schools in the area closed. Students were sent home to parents ill-prepared for homeschooling. Teachers had a week to rewrite every class for online-only instruction as many school systems extended spring break. Soon, we found ourselves in a dystopian lockdown that was unimaginable just a few weeks prior.
Like saving for retirement, the best time to start planning for disaster is many years back, and the second-best time is right now. I'm proud of the way our organization navigated this pandemic so far, so I wanted to share our process in the hopes that it will either help you now or help you the next time you face an unexpected challenge.
We're not out of the crisis yet, but as I've thought through how we've navigated so far, three main themes arose. Each of these points below could be—and certainly is somewhere online—treated more thoroughly with its own article. I'll be as brief as possible but am happy to continue the discussion on the ANCA Google Group if anyone has questions about a particular point.
1) Build a functional and responsive board with good governance practices
I cannot overstate the importance of this point. I've been a board member before and I've served on dysfunctional boards and highly-functional boards. Now that I'm on "the other side" and work as a nonprofit CEO, I'm even more aware of how critical the board can be to the overall success or failure of an organization.
Thanks to one board member with extensive training in law and nonprofit management, we had a head start on governance. We have assembled a diverse group with deep expertise in the issues we face. We put media policy in place a couple of years ago, so staff and board all knew to direct reporters to me. We had a clear chain of command between staff and leadership. We had established processes for documenting board discussions, giving me legal cover on any of the more complicated decisions we ended up making.
We quickly convened a small crisis committee consisting of board members who I could check in with to vet ideas and inform my next moves. We included an attorney, accountant, wealth advisor, CFO of a local private school, and a venture capitalist. This group met with our wealth management firm and helped formulate a liquidity plan to keep our staff employed. This was before the PPP loans had been created, so we had to decide how much of the staff to keep on payroll and how long we could afford to do that with available assets in our investment fund. We completed a cash flow model and discussed potential revenue opportunities. Although many of the most critical decisions have passed, we still meet every Friday by videoconference to quickly discuss cash flow and financial position as well as any new concerns that have arisen in this constantly-changing crisis.
We definitely would not be where we are right now without such a dynamic and active board.
2) Create a culture of innovation with staff
The most impressive part of my team's reaction to this crisis has been their willingness—even eagerness—to pivot quickly and do whatever may be necessary to stay afloat. This culture of innovation and openness to change didn't come naturally and took some time, but we had already done all the hard work before the COVID-19 crisis hit.
I spent most of my career in small business and just before taking this position had worked as co-founder and CMO of a startup. On day one of my tenure about two and a half years ago, we implemented many of the remote-work best practices I learned in business to streamline and centralize communications. We use Slack for internal chat, had moved to G Suite for email and document sharing, and had moved our donor database online to a cloud solution. Timekeeping and payroll had recently moved online. We still use a desktop version of our bookkeeping software but had already created documented and auditable digital processes for payments and approvals. My bookkeeper only worked a couple of hours a week on-site before the pandemic and was able to easily transition to 100% work-from-home.
If you haven't already started transitioning to online bill pay and requiring your bills to come in digitally, I would recommend you start today. It takes quite a bit of time but is well worth the effort. Work with your finance committee and auditor to create processes that cover you legally and fit the needs of your organization.
Just weeks before the crisis we had replaced all desktop computers with laptops (purchased inexpensively through TechSoup's nonprofit hardware program), so the physical transition to remote work was very simple. The cultural and technical aspects of communicating with a remote team were in the rearview mirror, so our team didn't miss a beat as most of us headed home.
After about a week of discussion, the team decided to take our 33rd annual spring native plant sale (our largest event and top fundraiser) online. We set up a delivery and curbside pick-up system that minimized risk for our staff and supporters. While we haven't yet hit our budgeted number, we've already sold over $35,000 in native plants and we've given our supporters something fun to do at home.
3) Work with funders (and vendors) as partners
One of the smartest things to come out of our small crisis committee was the idea to approach funders as partners. With a script and plan vetted by this committee, I approached our largest funder. We had a six-figure grant fund in the bank but earmarked for a specific project. We had spent very little of the money, as most of the construction and design would have happened this summer. While expressing my desire to complete the project at some point in the future, I made the case that we needed the funds released for general operations to get us through this crisis and not lose our talented staff. After all, the new nature playscape we're building would be useless if the whole organization went under. Our foundation representative agreed, took the idea back to his board, and we were able to release a month's worth of payroll from the grant fund. All of this happened before Congress had passed the PPP program, so we were able to keep 100% of our salaried staff on payroll.
We then went to some of our major individual donors and updated them on our plans, letting them know what we had been able to accomplish so far. Several donors moved their usual year-end giving to April, and one even doubled their prior year's gift.
Being honest about our challenges and asking for advice worked well across the board. We even had a Zoom meeting with a foundation that had never funded us before. While we would have preferred the planned in-person meeting, we felt it was important to continue our outreach efforts and push forward with growing our awareness with funders. We do not expect funding from them in 2020 or perhaps even 2021, but we know it will be important to keep growing our pipeline.
Beyond funders, it's also worth negotiating with anyone you do business with on the vendor side as well. Asking for discounts, pushing contracts off for a couple of months, and negotiating lower rates all help. We looked closely at our property and were able to make a few simple cuts like removing a few port-a-potties that were no longer necessary without visitors on-site. We shut off power at the breaker for several of our outdoor amenities to reduce passive power consumption. We're currently negotiating both general liability and worker's comp insurance because we have fewer risks while being closed to the public.
Don't forget your nonprofit partners in these discussions. You never know what ideas they may have to collaborate even in the pandemic. We used the time without any visitors to make energy-efficiency improvements that would have been difficult with the center full of children and visitors. A local green building nonprofit volunteered their labor force to complete the improvements at no charge to us. They kept their staff busy and were able to easily socially distance on our large property. Since their program had already been funded by a grant, we helped them fulfill their grant requirements while keeping underserved people on the payroll.
—
While we're always to some degree preparing for the last disaster, that preparation work is critical and preparedness pays off in a crisis like this. I'm proud of my staff and board for maintaining a creative spirit and embracing the entrepreneur's mindset that we can solve this problem and survive the challenge as a stronger organization.
Since we live in a new world where everything changes every few days, I encourage you all to keep tabs on the ANCA Google Group and to continue sharing best practices and asking difficult questions. I've found it very useful as we've planned for our re-opening. With any luck, I'll be writing that summer camp article again someday soon.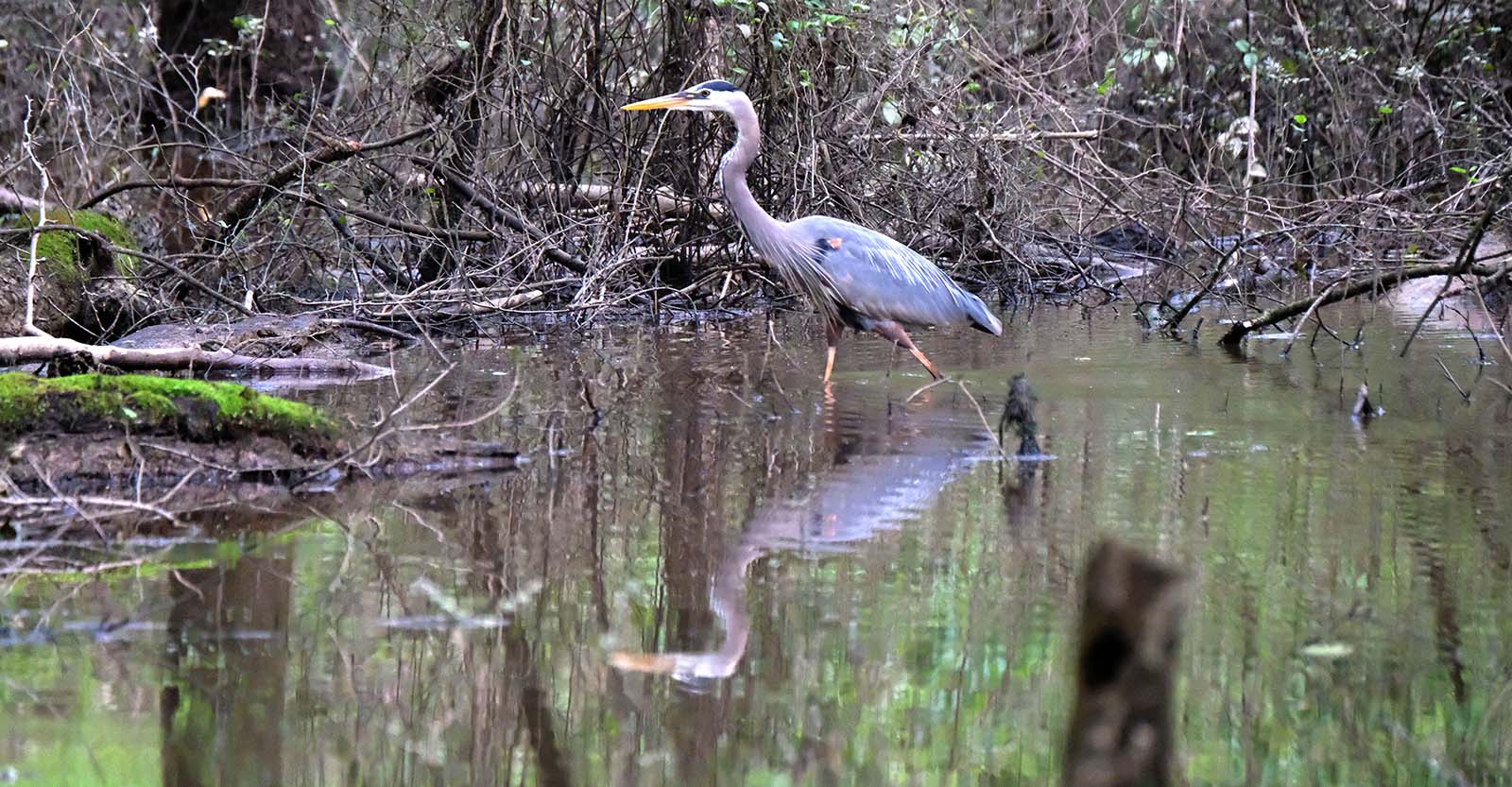 A Great Blue Heron explores Reflection Riding.
———
Want more stories like this? Join our mailing list for regular updates from ANCA: