by Mason Crist, Intern
Dunes Learning Center — Chesterton, IN
Note: this is part of a series on how ANCA members are responding to the COVID-19 crisis.
Due to the coronavirus outbreak, Dunes Learning Center has suspended its education programs and transitioned to social media and online content to continue engaging and educating children about the natural world.
The organization's social media pages include nature craft tutorials, backyard nature walkthroughs and a new video series, The Search for Sandsquatch, starring Dunes Learning Center's Chief Naturalist Anthony Escobedo on his hunt for the elusive "Sandsquatch" creature.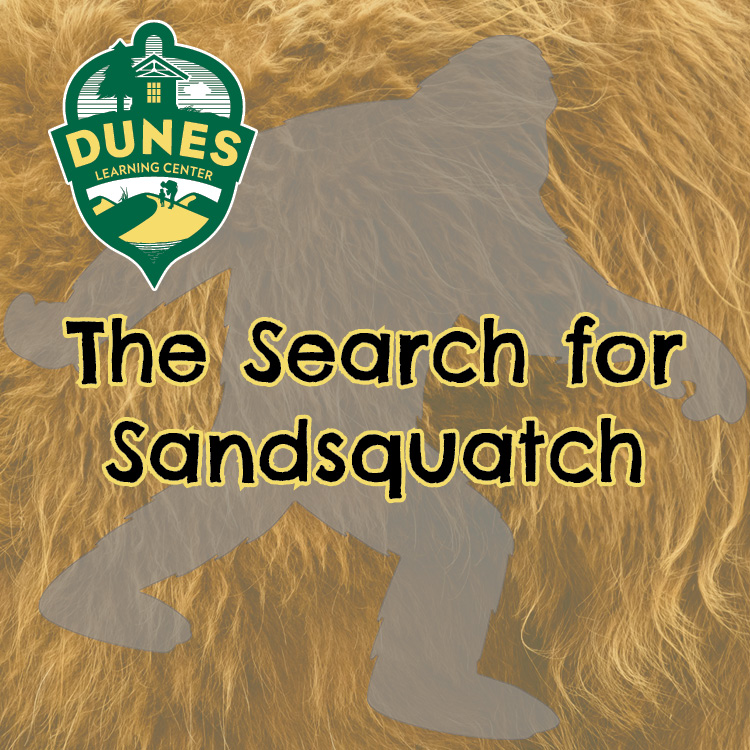 "This is mainly for the kids; they are exposed to a lot right now," says Escobedo. "There is so much information about the pandemic out there, it is scary and a lot to take on. We want to provide an opportunity for kids to escape everything that is going on in the world and just be with the learning center in a fun, engaging environment."
The nine-part series follows Escobedo throughout the Indiana Dunes National Park as he tracks the never-before-seen Sandsquatch, looking for the footprints, scat and clues it leaves behind.
"We wanted to create something that is entertaining and makes kids feel like they are exploring Dunes Learning Center. We want nature to continue playing a central role for our students, even with everything going on," says Escobedo.
"The series is a mix of fictional and non-fictional content. Kids learn best when they are engaged and having fun, so we were sure to include something with a little adventure, a little mystery, a little education and a whole lot of fun," he adds. "Having a storyline to follow with these clues allows a real world to look for the viewers on how the different scientists, biologist, conservationists and naturalists utilize these same clues to gather information about the resources around them."
Discovery Charter School third grade teacher Shelly Williams says that so far, the fictional storyline and cliffhangers are keeping the audience wondering and engaged.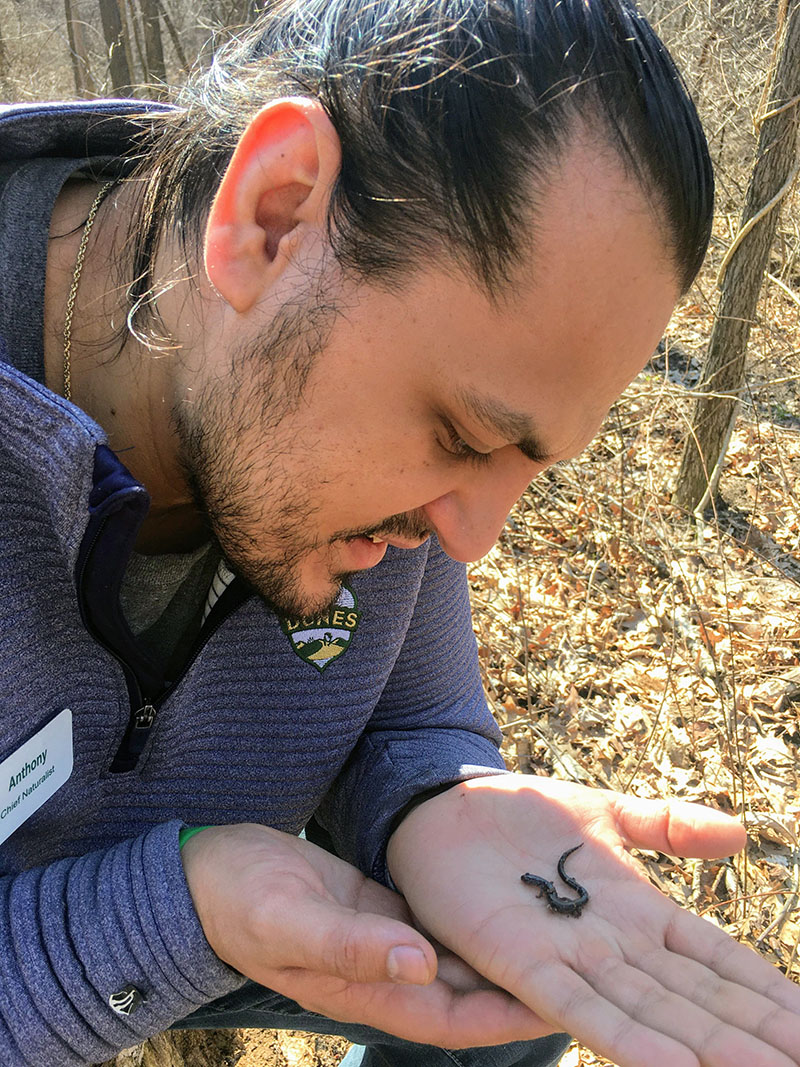 Chief Naturalist Anthony Escobedo inspecting a salamander"Being outdoors is very important for the kids to be able to explore and learn," she says. "These videos are goofy enough to keep the students entertained while they learn how to investigate and explore what is around them. Programs like these are fun, entertaining and provide kids with the tools they need to successfully explore the outdoors. I have a few kids that really enjoy them and were curious about the cliffhanger [Escobedo] left in episode one."
Escobedo hopes these videos motivate kids to get out of the house, into their backyards and appreciate the plant and animal life around them.
"We want to inspire students to get outside," says Escobedo. "What can kids find in their backyards or where they live? They may not be looking for Sandsquatch, but they can try and track some squirrels."
Dunes Learning Center plans on keeping nature close to the community. New episodes of The Search for Sandsquatch will be posted every Tuesday on Dunes Learning Center's website and Facebook page.
Dunes Learning Center is a non-profit residential environmental education center and camp devoted to inspiring lasting curiosity and stewardship with nature, even in isolation.
———
Want more stories like this? Join the ANCA mailing list: