by Alicia Evans, Community Programs Director
Chattahoochee Nature Center — Roswell, GA
In mid-March Chattahoochee Nature Center made the difficult decision to close to the public until further notice. While our grounds remained closed, our center managed to host a virtual native plant sale, a virtual birdseed sale, and even a virtual 5K! We also harvested 340lb of fresh produce from our Unity Garden, which then was donated to our local food pantry. We were proud to be able to accomplish these happenings while being closed (that kept us very busy!), and wanted to continue to show support for our community in other ways as well.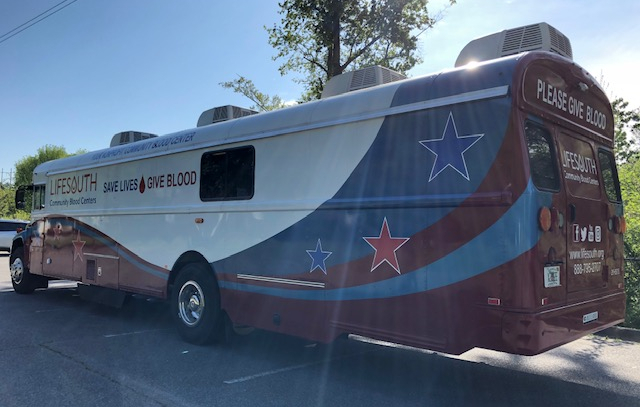 The LifeSouth "Bloodmobile"The idea of hosting a community blood drive at CNC had been one we were planning for in the future, but we had not yet made it a reality. The current situation presented the perfect opportunity to try it — a large empty parking lot, along with a very willing partner, LifeSouth, our local blood drive organization, who was ready to come out and set up a mobile unit within a week of connecting with them.
LifeSouth states that a "sharp decline in donations is already being felt due to concerns about the virus. Blood donations are needed every day, and anyone who is in good health is encouraged to give." Donations to LifeSouth directly support major hospitals in metro-Atlanta, including Children's Healthcare of Atlanta, Emory Hospital, Emory Hospital, Grady Health System, Piedmont Atlanta Hospital, and more.
Our community jumped at the opportunity to give! Blood donors included not only our staff, but also our docents, our members, and even members of the community who had never been to our center before. Some donors came out because they were looking for nearby centers to donate blood, while others thanked us for giving them a positive reason to get out of the house.
Kim Haikimian, our Partnerships Coordinator, came out to donate, and shared what participating meant to her. "My mom was a lifelong blood donor. She even earned pins to recognize her regularity with which she donated blood. Which is why, when my workplace, just two weeks after mom passed, announced it was doing a blood drive for the first time ever, I had to volunteer in her honor."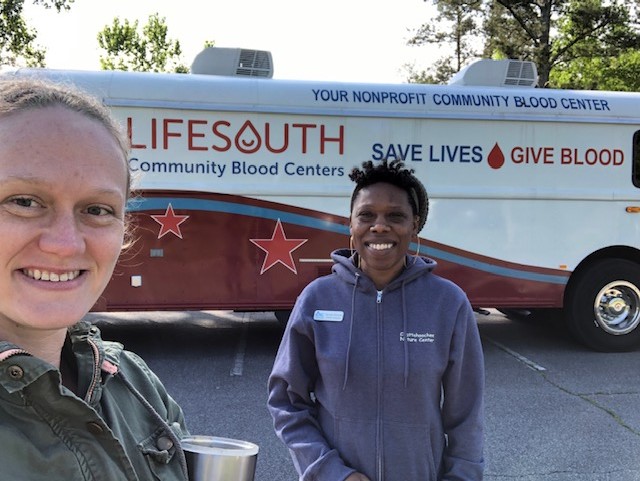 The author (left) and Tamara Kinmon, CNC Events DirectorI received a note today from LifeSouth: "With your help, up to 63 lives were saved! You deserve a pat on the back for that. You are making a difference in our community and we can't tell you how appreciative we are to partner with you. I look forward to the next drive!"
Hosting the drive required minimal investment of our time, and the staff of LifeSouth were fantastic to work with. I would encourage any center to consider hosting a blood drive now, or anytime. Your community will thank you.
———
Want more stories like this? Join our mailing list for regular updates from ANCA: