By Emily Ludy
Rental/Program Coordinator, Irvine Nature Center
Note: This article was originally published in the Fall 2020 issue of Directions, the ANCA journal. Members can always access the full issue via the member portal.
When Irvine came to the decision to close the center to the public on March 16th, 2020 the naturalist team started to come up with some alternative ideas as to how programming would continue. Our ever-so-popular Summer Nature Camp had to be canceled to be as safe as possible. Alternatives to summer camp started to arise as we wanted to continue our relationship with the families that had already signed up.
Developing a box program
The idea of a box program was our go-to option, but the execution took some more planning. To help guide us, we came up with the title FERN Boxes, in which FERN stood for Families Engaging Remotely with Nature. From here, we decided to move forward with a subscription-style box based on the surge of popularity of other subscription boxes such as plants, wine, and even underwear! This was the best option due to a continuous revenue source and supplied activities for the duration of the summer just as our regular summer camp would have done.
The next factor was pricing, which was chosen based around the research of other subscription boxes and supply costs. We valued each box at $35 per month with a special pricing of $30 for the three months of the summer deal. This was to entice families to get the subscription box for the summer at a discounted price. We also decided to include membership discounts to further the family's involvement with the organization.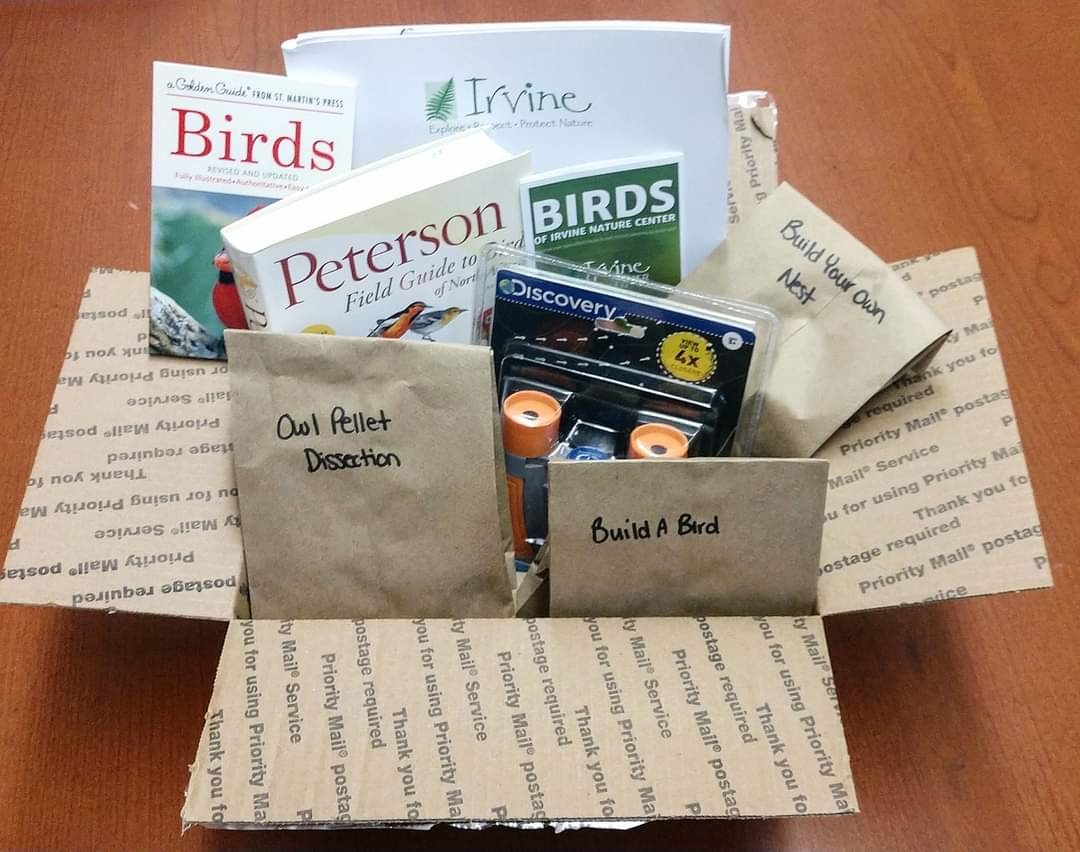 Inside a FERN Box.We were able to utilize supplies that we already had and that would fit into our most popular themes based on previous summer camps. Extra items were then purchased based on the theme of the month to enhance the box's perceived value. These items ranged from general nature supplies such as guides and fact cards to theme specific items including astronaut ice cream and nature journals.
With the supplies figured out, we wanted to include an interactive/virtual component in the form of Zoom meetings and YouTube links. These videos would act as the participants "virtual teachers" who would be able to guide the children through some of the crafts and activities given in the box.
Once we had all the decisions made, we were ready to market our new box idea to the public. Our main audience that we focused on was previous participants associated with the following programs: summer camp, afterschool programs, and public programs. We also advertised to our social media followings on Facebook and Instagram as well as our newsletter email chain. Then we waited anxiously to see what the overall results were going to be!
Overall, the program was very well received by our audience with a total of 700 boxes sold. We were able to get great feedback from the subscribers through a survey link sent out which included questions such as what your favorite activity was, what items did you like best, etc.
Challenges along the way
While we had great success, we also faced many obstacles. One of the main hurdles we had to jump over was the supply aspect. We had a tough time figuring out exactly how many supplies to get, how to bulk order certain items, and hoping that items would arrive on time. We also had to keep and update a budget to make sure our board members were informed on the cost of the program versus revenue.
Another unseen hiccup was the amount of paper and ink needed to make the boxes as self-sufficient to the recipient as possible. Due to many of the crafts and activities being included with worksheets and instructions, a massive amount of printing, paper-clipping, and assembling took a lot of staff time from our limited staff and one printer.
Besides making and printing the worksheets, it took even more time and effort to fully assemble all the boxes. We were limited on space in the building and we had to maintain quality control on the items we created and were providing.
The last issue we faced was having to get a large quantity of the shipping supplies such as boxes and tape ordered and assembled before we were ready to ship out the supplies. We had to schedule pick-ups for these boxes, due to the high volume that otherwise would have needed dropped off at the post office.
Though we faced many obstacles, we were still able to get all of our boxes out on time and with little disruption to our participants.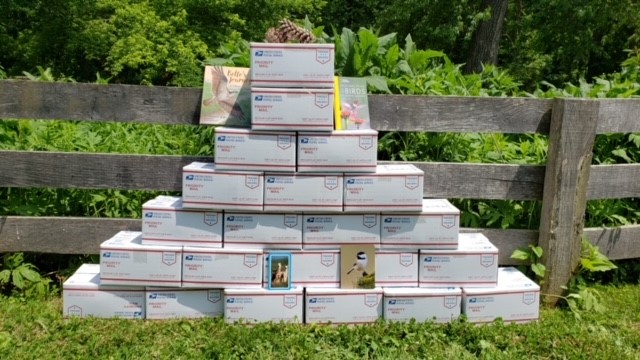 Irvine Nature Center's FERN Boxes, ready for the mail.
Funding and partnering
Funding this large-scale project went rather smoothly, as we were fortunate enough to have some grant money originally for our scholarship summer camp participants that we were able to switch over to our summer camp subscription boxes.
We partnered with other organizations who provided either virtual experiences or craft supplies for the boxes. These organizations included The National Aquarium, Ladew Topiary Gardens, the Annapolis Maritime Museum, the Baltimore Museum of Industry, Phoenix Wildlife Center, the Maryland Science Center, and Robinson Nature Center.
To connect with our closest community, we reached out to Title I schools in Baltimore County, and partnered with Reisterstown and Glyndon Elementary Schools, who chose 30 of their students to participate in the camp box subscription at no cost to the families.
Continuing the program
As the summer came to an end, we wanted to continue our subscription box concept into the fall. We decided that the best program to adapt into a box-based program was our afterschool Eco-Explorers program. This program typically occurs after school at one of our many different elementary schools within the Baltimore County region. Due to schools being remote this fall, we figured the box idea would be a perfect way to stay connected to the K-5th grader community.
For our new Eco-FERN Club, we took popular elements of our summer camp box subscription and molded it into an afterschool program. We continued sending boxes with various supplies and themes and partnered it with a weekly virtual meeting where the students can log on and learn a 30-minute lesson from a Naturalist together with other students in the area.
We have learned greatly from our trial, and error, and success with these boxes and are constantly growing and adapting to the ever-changing learning environment with our local school systems. We are excited to continue with the afterschool Eco-FERN Club boxes and we have used our newfound virtual skills to pivot into virtual teaching with our Nature in the Classroom programs. As the pandemic continues, constantly changing and morphing, the Irvine Staff stand ready to adapt to the situation to continue to encourage people to "explore, respect, and protect Nature."
Emily Ludy is the Rental/Program Coordinator at Irvine Nature Center in Owings Mills, Maryland. Check out Irvine's website to learn more about our organization's mission to explore, respect, and protect nature!
Want more stories like this? Scroll down to sign up for our mailing list.