by Asa Duffee, ANCA Director of Marketing & Communications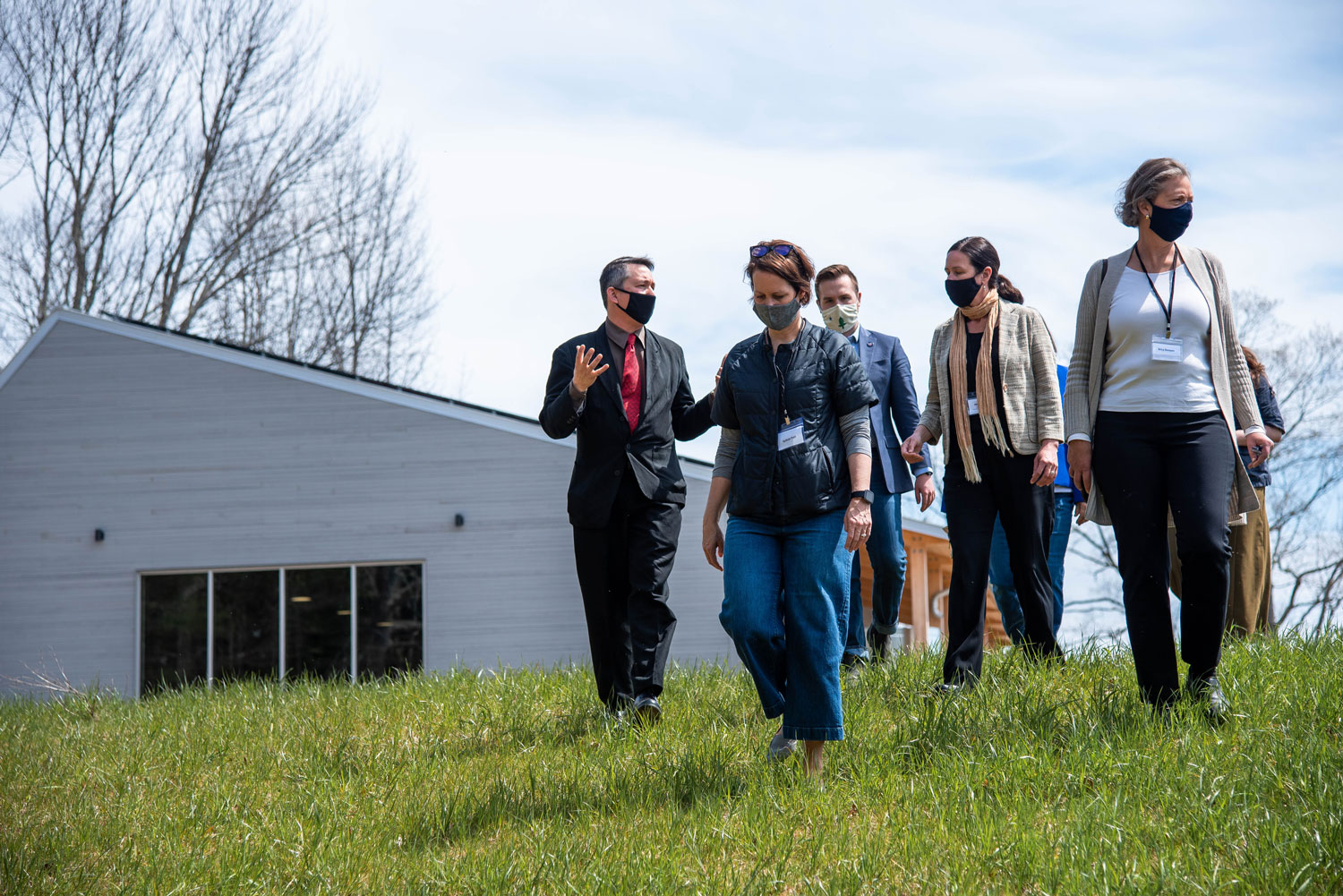 Drew Dumsch (far left) gives a tour during the ribbon cutting ceremony for River Bend Farm on April 24, 2021."Life takes interesting turns," said Drew Dumsch, President/CEO of The Ecology School in Saco, Maine, at the virtual Association of Nature Center Administrators (ANCA) Leadership Awards Ceremony on August 25th. "If you'd told me 30 years ago that an English major from Big Rapids Michigan was going to get the national award for nature center leadership, I would have been very amazed to hear that."
The Ecology School staff and community, however, were not so surprised — they nominated Dumsch for the ANCA Nature Center Leadership Award, knowing that he has led the organization to become a distinguished institution in the nature and environmental learning center field. Dumsch co-founded The Ecology School in 1998, and since then he has guided the organization from humble beginnings to its current status as a pioneer in sustainability that provides residential, day, and outreach programs for thousands of participants per year.
The ANCA Nature Center Leadership Award is the premier award for leaders of nature and environmental learning centers. The award recognizes an individual who in their role at the highest administrative level of an organization has made a major contribution to the success of a nature center, as well as important contributions to the field through professional organizations, and through the support and mentoring of other nature center leaders.
In addition to his work at The Ecology School, Dumsch has also been active in ANCA, the Maine Environmental Education Association, the New England Environmental Education Alliance, and the North American Association of Environmental Education.
Developing The Ecology School into model of sustainability
The Ecology School has undergone a remarkable transformation since its inception in 1998. Director of Programs Alex Grindle has been with the organization since 2002, and at the August 25th ceremony recounted that at first The Ecology School had three year-round staff, a small office, and had programming for less than half of each year, all on rented camp facilities. Though the organization grew over time, it still operated on rented property through 2018.
Today the organization has nine year-round staff, a campus that is a global model for sustainability, and full capacity to host programs throughout the year.
At the heart of The Ecology School's current operation is its River Bend Farm property, which the institution purchased in 2017. Dumsch led the effort to acquire the property and then develop a campus featuring two new buildings; this was a $14.1 million project, with a $3.6 million capital campaign that Dumsch spearheaded.
Notably, the two new buildings — a dormitory and dining commons — are on track to be certified under the Living Building Challenge, an exceptionally rigorous sustainability certification that ANCA has previously written about. The Ecology School is also the first entity in the world to submit a master plan for the broader Living Community Challenge certification. These accomplishments demonstrate how The Ecology School is leading a path toward a sustainable future, and also speak to Dumsch's leadership skills and drive to achieve the organization's vision.
Cultivating a community of connection
Though Dumsch's responsibilities involve high-level strategic planning, organizational oversight, and project management, he has clearly maintained a grounded approach to engaging with The Ecology School staff. Through Dumsch's emphasis on internal and external organizational relationships, The Ecology School has developed a community based on meaningful connections.
Mallory Durkee, Program Manager & Development Assistant at The Ecology School, began her tenure at the organization as a seasonal educator, and wrote in Dumsch's nomination that she was impressed with Dumsch's commitment to building community within the staff.
"I did not expect to work with or let alone meet the founder, president, and CEO of the organization during that short time. However, on my first day of employment Drew had met all 14 of the seasonal staff and knew each of our names," wrote Durkee. "This may have seemed like a small gesture to Drew, as I have now seen him do it season after season, but it set the stage that Drew truly valued our seasonal staff and wanted us to feel like a part of the larger team despite the short timeline."
Dumsch also promotes a work culture that Grindle describes as "joy and humor combined with professionalism," and he isn't afraid to have fun along the way. Durkee confirms this with an anecdote from her seasonal position.
"A highlight from my first term as an educator will always be when Drew participated in one of our pre-lesson 'preview' skits for the students. Drew committed fully to an accent and over-the-top mannerisms for his character," Durkee wrote. "As educators who had been participating in these skits multiple times a day it was such a joy to see our organization's president just as committed to the whimsical side of our work as we were."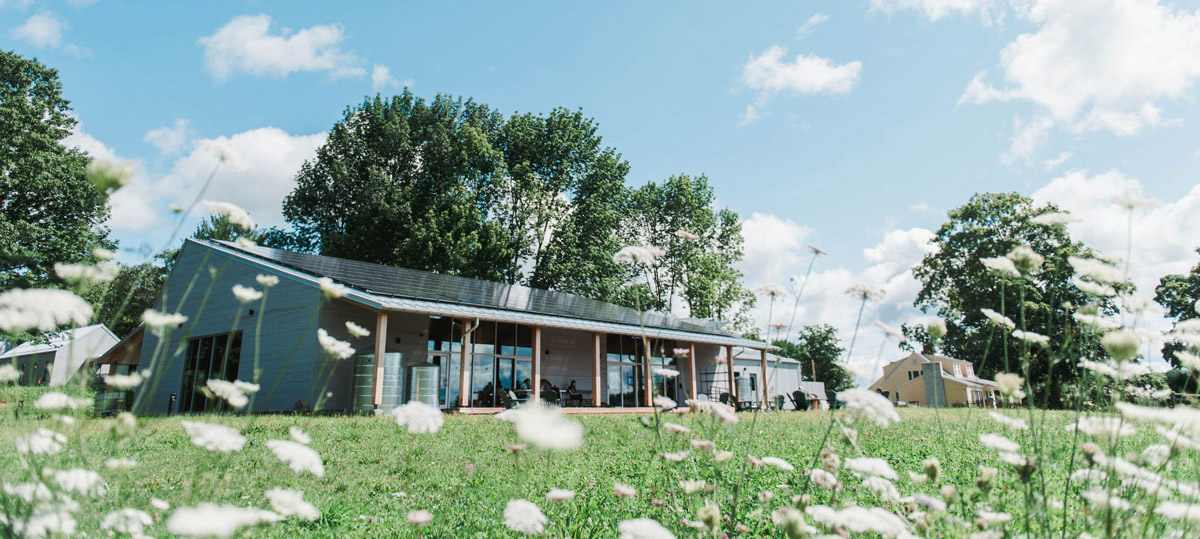 An outside view of the new Poland Springs Education and Dining Commons at The Ecology School.
Responding to the pandemic and looking ahead
The pandemic majorly disrupted all nature centers' operations, of course, but it particularly threatened residential environmental learning centers (RELCs) such as The Ecology School. As Dumsch noted at the award ceremony, "a business model based on people staying in dorms and eating meals together, is not a good pandemic model."
Though The Ecology School's programs radically changed in response to the pandemic, Dumsch's leadership kept the organization stable at its core. Even with drastically reduced program revenue, The Ecology School kept all of its year-round staff employed, completed construction on its new buildings, and achieved its $3.6 million capital campaign.
At the ceremony ANCA Executive Director Jen Levy acknowledged that Dumsch's resilience to the pandemic is not only notable for The Ecology School's success, but also for his contributions to other RELCs. When the pandemic hit, Dumsch quickly worked alongside other RELC leaders to establish the RELCs Are Essential campaign, which strives to unite RELCs with common goals and advocates for state and federal funding.
"Thanks to Drew, the conversation turned very quickly from 'How are we going to survive?' to 'We can survive, and this is what we're going to do,'" Levy said.
Dumsch exemplified that resilience at the award ceremony, noting the role that nature and environmental learning centers can play in this unique time.
"Our centers should be the centers of healing and recovery coming out of the pandemic," he said. "Our centers really are going to become places that catalyze new solutions."
Dumsch is the twenty-second recipient of the ANCA Nature Center Leadership Award. The award began in 2000; recipients demonstrate significant contributions to their organization and to the advancement of the nature and environmental learning center profession.
—
This article was originally published in the Fall 2021 issue of Directions, the ANCA journal. Members can always access the full issue via the member portal.
Want more stories like this? Scroll down to sign up for our mailing list.